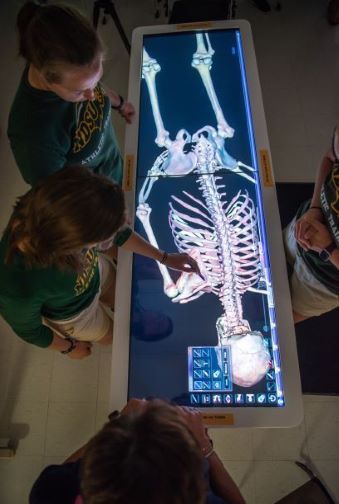 Master of Athletic Training (MATrg)
This is an archived copy of the 2019-20 catalog. To access the most recent version of the catalog, please visit http://bulletin.ndsu.edu.
---
Program Description
The Master of Athletic Training (MATrg) is a professional program accredited by the Commission on Accreditation of Athletic Training Education (CAATE). The MATrg program  prepares students to take the Board of Certification, Inc. (BOC) examination and earn the 'ATC' credential. Didactic courses and clinical experience courses focus on prevention, assessment, treatment and rehabilitation of injuries resulting from physical activity. This is a five-semester program starting in the summer term.
Option 1: Five-Year Program. This unique option allows the student to complete a Bachelor of Science in Exercise Science and Master of Athletic Training (MATrg) degree in five years.
During years 1-3 students follow the NDSU Exercise Science guidelines and curriculum**.

Students apply to the MATrg program through the NDSU Graduate School during the third year (typically Junior standing).

Accepted students begin the MATrg program in the summer.

During year 4 students complete both Exercise Science and MATrg courses.The Exercise Science degree is awarded in August.

During year 5 students complete MATrg courses. Upon successful completion of all program and Graduate School requirements, the MATrg degree is awarded in May.
** Transfer students and students who change majors must follow the Exercise Science policies and curriculum.  This may extend the time line for program completion.
Option 2: Two-Year Program. Students who have a conferred Bachelor's degree in a related field will follow Option 2.
Students apply to the MATrg program through the NDSU Graduate School.

Accepted students begin the program in the summer.

Years 1 and 2 students follow the MATrg Plan of Study for Option 2

Upon success complete of all program and Graduate School requirements, the MATrg degree is be awarded in May.
Requirements for 2019-2020 Admission
 
Program Website: https://www.ndsu.edu/hnes/athletic_training_professional/
 
Overall GPA of 3.0 at the time of application (3.0 GPA or higher maintained to start of program)
The following courses must be completed with a letter grade of "C" or better earned and documented on official transcripts prior to the start of the program in Summer 2019.

Human Anatomy and Lab                               1 semester
Human Physiology and Lab                            1 semester
General Physics and Lab                                1 semester
General Chemistry and Lab                            1 semester
Biomechanics and/or Kinesiology and Lab     1 semester
Exercise Physiology and Lab                          1 semester
Medical Terminology                                       1 semester
Nutrition                                                           1 semester
Psychology                                                      1 semester

​Statement of Purpose: Please include the following information in your statement:

Reasons why you are pursuing graduate studies at NDSU
Explain your interest in pursuing a career in Athletic Training
Background preparation for Athletic Training
Relevant skills and experiences you have acquired

Research Writing: Students are required to write a research-based position paper explaining why research is important in Athletic Training and how it is relevant to clinical practice. Minimum of two references of support. Three-page maximum.
Three (3) letters of recommendation – at least one letter must be from an instructor/professor. They must testify to integrity (i.e. professionalism, communication skills, work ethic) of the student.
Documentation of a minimum of 50 hours of observation completed under the direct supervision of a BOC ATC® in an athletic training room setting. 50 hours must be completed within one (1) calendar year of application. Form can be found on MATrg website. Submit signed form under supplemental materials.
Documentation of current CPR Training in one of the following:

American Heart Association: BLS Healthcare Provider/BLS Provide
American Red Cross: CPR/AED for the Professional Rescuer
American Red Cross: Basic Life Support of Healthcare Providers 

Submit copy of certificate under supplemental materials.

International students must meet the following English Language Test score requirements for HNES Graduate Programs:
              TOEFL (pbt): 600         TOEFL (ibt): 100          IELTS: 7            Academic PTE: 68
Application Process
Apply online through ATCAS: https://atcas.liaisoncas.com/applicant-ux/#/login.
After creating your account, select the NDSU MATrg. program.
Follow steps to pay the $35 NDSU application fee.
Application submission does not constitute acceptance into the program nor is acceptance guaranteed simply upon completion of requirements. Only completed applications will be reviewed. Admission requirements are weighted. Overall GPA and interview performance carry the major percentage of the weighting process. Exceptions to the requirements can be made on recommendation by the MATrg Application Committee.
Admission Acceptance/Denial into the MATrg:
The MATrg application process is a competitive process.  A committee reviews completed graduate school applications and selects applicants to interview.  The committee will set up a time with the student to complete the interview process (web-based or in person).  Students will be notified by the NDSU Graduate School regarding formal MATrg program status.  All NDSU Graduate School Policies will be followed accordingly.
Course List
Code
Title
Credits

Summer I

HNES 780
Athletic Training Techniques
3

Fall I

HNES 775
Therapeutic Modalities
3
HNES 781
Orthopedic Assessment I
4
HNES 794
2

Spring I

HNES 770
Evidence Based Research and Practice
2
HNES 782
Orthopedic Assessment II
5
HNES 794
2

Summer II

HNES 794
1

Fall II

HNES 772
Prevention and Health Promotion in Athletic Training
2
HNES 774
Therapeutic Exercise
3
HNES 776
Non-Orthopedic Assessment
2
HNES 794
2

Spring II

HNES 773
Athletic Training Capstone
2
HNES 778
Athletic Training Administration and Professional Development
3
HNES 794
2
Total Credits
38
Shannon David, Ph.D., ATC
Ohio University, 2013
Research Interests: Quantification of Intervention Outcomes, Patient- Clinician Relationship
Kara Gange, Ph.D., ATC
North Dakota State University, 2010
Research Interests: Therapeutic Modalities and Diagnostic Ultrasound
Nicole German, Ph.D., ATC
North Dakota State University, 2008
Research Interests: Graston Technique®, Clinical Practice
Katie Lyman, Ph.D., ATC
University of South Florida, 2014
Research Interests: Kinesio Tape®, EMG, Emergency Medicine