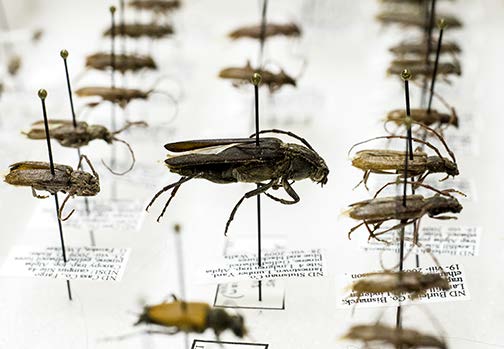 Entomology
This is an archived copy of the 2019-20 catalog. To access the most recent version of the catalog, please visit http://bulletin.ndsu.edu.
---
Program Description
The Department of Entomology in the School of Natural Resource Sciences offers graduate study leading to the M.S. and Ph.D. degrees. Advanced work involves specialized training in the following areas: behavior, biochemistry, biodiversity, biological control, chemical ecology, ecology, host plant resistance, insect pathology, pest management, molecular genetics, physiology, and systematics. The Department also participates in interdisciplinary programs in Environmental and Conservation Sciences and Natural Resources Management. The close working relationship between the department and the USDA Red River Valley Agricultural Research Center, located on campus also provides students many opportunities for research and consultation.
Student research and academic programs are tailored to individual needs and interests. Interdisciplinary approaches to entomological programs are fostered. Prospective students are encouraged to check the Department of Entomology website (http://www.ndsu.edu/entomology) for the latest descriptions of the graduate program.
The Department of Entomology graduate program is open to all qualified graduates of universities and colleges of recognized standing. To be admitted with full status to the program, the applicant must have adequate preparation in entomology and should be in contact with potential faculty advisors about opportunities for new students. More information is found on the Department website (https://www.ndsu.edu/entomology/prospective_students/).
Applications should be submitted directly to the Graduate School and will include a letter stating reasons for pursuing an advanced degree in entomology and expressing the applicant's research interests.
Financial Assistance
All specified application materials must be submitted to the Graduate School, and the student must be admitted in full or conditional standing to be considered for financial assistance. Graduate research assistantships are awarded on the basis of scholarship, potential for advanced study and research, and availability. Graduate research assistantships provide a monthly stipend and a waiver of graduate tuition.
For M.S. candidates, a minimum of 30 semester credits beyond the B.S. and an oral defense of a research-based thesis and academic subject matter is required.
See information in Graduate Bulletin
The Ph.D. requires a minimum of 90 semester credits beyond the B.S., (or 60 beyond the M.S. degree), preliminary written and oral examinations directed toward academic subject matter, and a final oral defense of a research-based dissertation.
Mark A. Boetel, Ph.D.
South Dakota State University, 1996
Research Interests: Integrated Pest Management of Sugarbeet and Corn Insects, Microbial Control
Stephen P. Foster, Ph.D.
University of Waikato, 1983
Research Interests: Insect Chemical Ecology, Pheromone Biochemistry, Reproductive Behavior
Jason P. Harmon, Ph.D.
University of Minnesota, 2003
Research Interests: Environmental Change and Ecological Interactions, Biological Control, Insect Ecology
Marion O. Harris, Ph.D.
Michigan State University, 1986
Research Interests: Insect Behavior, Insect-Plant Interactions, Resistance of Plants to Insects
Janet J. Knodel, Ph.D.
North Dakota State University, 2005
Research Interests: Extension Entomology, IPM of Field Crop Insects, Insect-Disease Surveys, Emerging Insects, Chemical Control 
Deirdre Prischmann-Voldseth, Ph.D.
Washington State University, 2005
Research interests: Agricultural Integrated Pest Management and Arthropod Ecology
David A. Rider, Ph.D.
Louisiana State University, 1988
Research Interests: Systematics of the Pentatomoidea, Molecular Genetics, Ecology of the Northern Tall Grass Prairie Arthropods