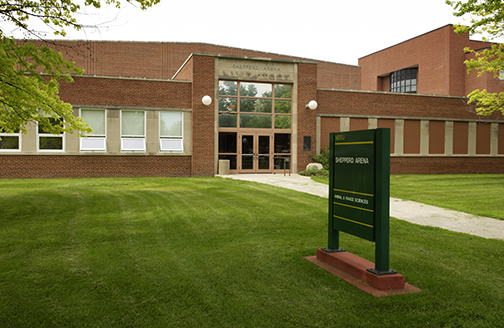 Equine Science
This is an archived copy of the 2019-20 catalog. To access the most recent version of the catalog, please visit http://bulletin.ndsu.edu.
The equine science program includes course work in equestrian styles, nutrition and physiology, selection and management of the horse enterprise. The roles of the horse in society—recreational, therapeutic and performance—are discussed.
The Program
The department offers programs of study and extra-curricular activities that facilitate the development of the student in the horse industry at many diverse entry points.
The Curriculum
The equine science major is designed to provide a strong overall background with supporting course work in the sciences, humanities and general education. The student will be prepared in equine production and management.
The choice of a minor in equine science offers the student diversity in his or her educational program while preparing the participant for recreational endeavors involving horsemanship. A minor in equine science can accompany essentially any major offered at North Dakota State University.
A minor in equine assisted activities and therapies provides students with a background in therapeutic horsemanship. This minor can accompany essentially any major offered at NDSU.
Career Opportunities
Equine science students are qualified to become involved in many diverse occupations. These include such varied activities as training horses, managerial support, sales of pharmaceuticals and livestock products, and other agribusiness professions. Graduates are likely to obtain employment at academic institutions, government stations, foreign assignments and private industry. Specific areas of employment are 4-H Extension opportunities, university and community college teaching, horse exhibitions and horse breeding operations. Animal feed sales, equine magazine publications and public relations for breeding operations provide many different avenues of opportunity.
Extra-Curricular Activities
The NDSU Horsemen's Association supports a variety of horse-related activities, including the Intercollegiate Horse Show team.
The NDSU Rodeo Club provides students the opportunity to gain experience and knowledge of the sport of rodeo. The club supports the Intercollegiate Rodeo Team and also sponsors the NDSU Rodeo held each fall.
Financial Aid and Scholarships
Part-time work and work-study programs in several different livestock units, highly functional animal science laboratories and a myriad of other employment opportunities exist. Numerous college awards and departmental scholarships are competitively available and typically awarded in the spring semester. The College of Agriculture, Food Systems, and Natural Resources awards additional scholarships each year. Contact the Office of the Dean, College of Agriculture, Food Systems, and Natural Resources, NDSU, for more information. Student loan, grant and work-study information is available from the Office of Financial Aid and Scholarships, and One Stop.
Plan of Study
Please note this is a sample plan of study and not an official curriculum.  Actual student schedules for each semester will vary depending on start year, education goals, applicable transfer credit, and course availability. Students are encouraged to work with their academic advisor on a regular basis to review degree progress and customize an individual plan of study.