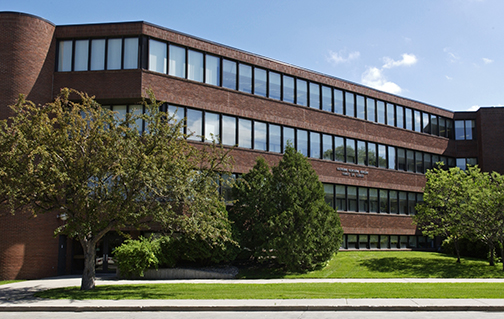 Family and Consumer Sciences Education
This is an archived copy of the 2019-20 catalog. To access the most recent version of the catalog, please visit http://bulletin.ndsu.edu.
The family and consumer sciences education (FCSE) program at North Dakota State University has been approved by the State Board for Career and Technical Education for the preparation of family and consumer sciences teachers. The FCSE program is a versatile major due to the preparation of the student as both an educator and a family and consumer scientist.
The Program
As an educator, the FCSE graduate is prepared to guide a variety of teaching-learning situations. Since education is a people-centered profession, the program focuses on characteristics of various learners or clients, learning principles and different applications of the teaching-learning process. A wide range of strategies for working with individuals or groups is included. Hands-on experience is provided throughout the program to develop the teaching skills learned in classes.
As a family and consumer sciences educator, the FCSE student is prepared with a comprehensive subject matter background. Courses from all areas of family and consumer sciences are included in the program. This contributes to the versatility of the major since the broad range of knowledge may be applied to a wide variety of settings.
A graduate of the FCSE program is qualified to teach family and consumer sciences classes in occupational or non-occupational programs, adult programs, or to serve as an extension educator.
The FCSE program meets the standards set by the National Council for Accreditation of Teacher Education (NCATE). Thus, graduates are readily employable throughout the United States.
professional education courses
Students may enroll in the 300-level professional education courses before being formally admitted to the School of Education (SOE).  Prior to enrolling in the 400-level courses, students must complete the application for admission to the SOE; attain a minimum of a 2.75 grade point average overall in their course work, education courses, and teaching specialty courses; and pass theCore Academic Skills for Educators exam(s).  Requirements for admission can be found on the School of Education website.
Student Teaching
Student teaching is the culmination of the teaching program. Students have the opportunity to apply knowledge and skills acquired in college courses under the supervision of an experienced family and consumer sciences educator.
Career Opportunities
Since the FCSE education major has preparation across all areas of family and consumer sciences, a wide variety of career opportunities in the field is possible. Graduates pursuing a career in teaching become employed in both traditional and nontraditional teaching situations. Settings include teaching in middle, junior and senior high schools and secondary vocational centers. Other career options include employment as consultants in teaching family and consumer sciences at the elementary school level or serving as family and consumer sciences teachers for special education students. Teachers of adult programs work with various agencies and local school districts offering adult enrichment, continuing education, evening and summer classes, and programs for special groups such as parents, senior citizens and migrant workers. Graduates also are employed by the Cooperative Extension Service, utility companies, health and human service agencies and retail establishments.
In addition, graduates are employed in business, industry, government service and public agencies. The capacity in which our graduates serve in these fields varies. Some are employed as family and consumer scientists to contribute specific knowledge, while others are employed to provide educational services and information dissemination to consumers about products, services or facilities of different companies and agencies.
Career opportunities may be enhanced through careful selection of elective courses. Another major or minor offered through the College of Human Development and Education or a major from another teaching field is encouraged.
Financial Aid and Scholarships
Information about various loans, grants, general scholarships and employment is available through the Office of Financial Aid and Scholarships or One Stop. Scholarships ranging from $300 to $1,000 are offered to outstanding freshmen with financial need through the College of Human Development and Education. Additional academic scholarships also are available each year for returning students.
Plan of Study
Please note this is a sample plan of study and not an official curriculum.  Actual student schedules for each semester will vary depending on start year, education goals, applicable transfer credit, and course availability. Students are encouraged to work with their academic advisor on a regular basis to review degree progress and customize an individual plan of study.