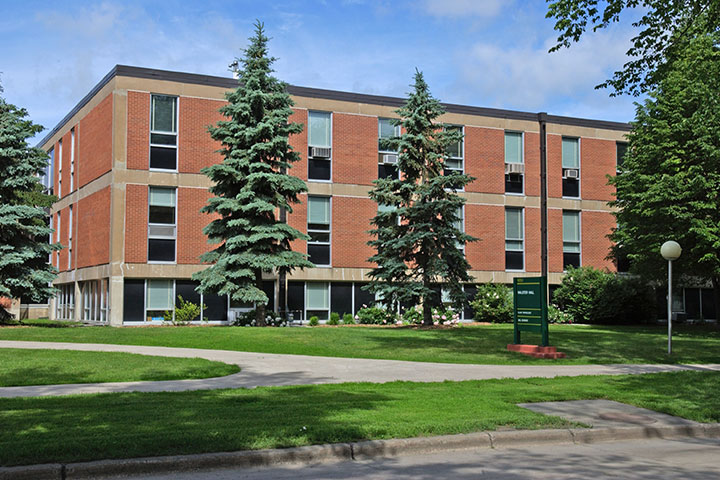 Natural Resources Management
This is an archived copy of the 2019-20 catalog. To access the most recent version of the catalog, please visit http://bulletin.ndsu.edu.
With increasing human pressure and a growing need to balance competing demands, we need new and better ways to manage society's impacts on the environment. The natural resources management (NRM) program prepares students for careers requiring an understanding of the social, economic, biological, and physical aspects of solving problems associated with the management of natural resources for their highest and best uses for society while maintaining the integrity of life-sustaining ecological systems.
The Program
The NRM program is part of the School of Natural Resource Sciences at North Dakota State University. We are a management-oriented, interdisciplinary program that integrates the social, economic, physical, and biological aspects of natural resources. The program draws upon the courses and resources across the various colleges at the University. An undergraduate program leading to a Bachelor of Science, a graduate program leading to a Master of Science, a doctoral program leading to a Doctor of Philosophy, as well as a professional degree program, called a Master of Natural Resources Management are available.
Through the NRM program, students acquire a broad background in natural resources, as well as in-depth study in one or two emphasis areas of interest. The program exposes students to many disciplines—exactly the interdisciplinary approach society must take if it is to find solutions to complex environmental problems. The undergraduate program curriculum is divided into 90 core credits required of all students, and 38 emphasis credits selected by the individual student from seven areas of interest.
NRM Core – This group of courses provides each student a broad foundation in the social, biological and physical/earth sciences. The NRM core also satisfies NDSU's General Education requirements and includes 40 credits along with 40 core credits, 38 emphasis credits, and 10 credits of free electives.
NRM Emphasis – During the third and fourth years of the program, students focus on a specific area of interest—an emphasis. The majority of courses are selected from a diverse group of approved electives. NRM offers seven emphasis areas.
Biotic Resources Science – deals with basic scientific principles that govern the interrelationship between biotic (e.g., plants, animals) and abiotic factors (e.g., climate, soils) in major ecosystems and the use of these principles for environmentally sound management of natural resources and agroecosystems
Environmental Communication – is designed for environmentally oriented students preparing for careers in communications fields such as journalism, public relations, broadcast media and the internet
Natural Resources Economics – prepares students for management, administrative, regulatory and policy positions that require a broad understanding of natural resources management and allocation
Physical/Earth Resources Science – leads to an understanding of the physical and chemical aspects of ecosystems. Topics of study include hydrology, water management and quality, waste management, soil properties, energy resources and land-use management
Pollution Control – focuses on the principles and practices of managing natural resources for pollution control. Topics include the technical aspects of pollution as they relate to water, air/solids, earth/soils, and the impact of environmental pollution on biotic factors
Social Sciences – concentrates on human factors (social, anthropological, political) in environmental management and environmental disaster management, while recognizing constraints and opportunities presented by physical and biological factors
Sustainability and Resiliency – focuses on how to build capacity to deal with change; prepares students through system, strategic, and anticipatory thinking
The Faculty
The NRM main faculty are part of the School of Natural Resource Sciences and are dedicated to the NRM program.  NRM is an inter-college/interdisciplinary program actively engaging faculty from across the University in the coordination of the program classroom teaching and advising.
Financial Aid and Scholarships
Summer job opportunities in natural resources management fields are plentiful. Internship programs leading to full-time employment with several federal agencies are available. Natural resources management offers three scholarships each year ranging from $250 to $500 each. Additional scholarships are available through the College of Agriculture, Food Systems, and Natural Resources. Student loan, grant and work-study information is available from the Office of Financial Aid and Scholarships and One Stop.
Career Opportunities
Policy makers, elected officials at all levels of government, business leaders, farmers and ranchers are facing ever more complex, multidisciplinary and international problems dealing with natural resources and the environment. NRM graduates are prepared with the skills and knowledge for examining these problems from a holistic ecological perspective and a global social perspective. Federal government employment opportunities include U.S. Department of Agriculture, U.S. Department of the Interior, Fish and Wildlife Service, Geological Survey, Bureau of Indian Affairs, Bureau of Reclamation, Army Corps of Engineers, National Park Service, Agency for International Development, Peace Corps and more. State government opportunities include departments of natural resources, water management agencies, parks and recreation agencies, agriculture departments, health departments, Public Service Commission, Cooperative Extension Service, state Agricultural Experiment Stations and university and secondary school education. Many positions also are available with local government units. Private sector employment opportunities include mining and forest product companies, consulting firms, water organizations and non-profit conservation and environmental organizations.
Plan of Study
Please note this is a sample plan of study and not an official curriculum.  Actual student schedules for each semester will vary depending on start year, education goals, applicable transfer credit, and course availability. Students are encouraged to work with their academic advisor on a regular basis to review degree progress and customize an individual plan of study.
Natural Resources Management Emphasis Areas
Biotic Resources Science
Course List
Code
Title
Credits

Choose One Tract - Required 6 credits

6

CHEM TRACT

General Chemistry II
Survey of Organic Chemistry

MANAGEMENT TRACT

Rangeland Resources Watershed Management
Introduction to Range Management

Required 32 additional elective credits

32
Total Credits
38
Sustainability
Course List
Code
Title
Credits

Required 12 credits

NRM 420
Sustainable Scenarios in Natural Resources Management
3
NRM 401
Urban-Ecosystem Management
3
SOC 431
Environmental Sociology
3
or SOC 404
Community Assessment
or POLS 442
Global Policy Issues
or POLS 453
Environmental Policy and Politics
NRM 454
Wetland Resources Management
3
or NRM 402
River and Stream Resource Management
or SOIL 410
Soils and Land Use
or BIOL 475
Conservation Biology

Required 26 additional elective credits

26
Total Credits
38
​Physical/Earth Resources Science
Course List
Code
Title
Credits

Required 13 credits

CHEM 122
General Chemistry II
3
CHEM 122L
General Chemistry II Laboratory
1
GEOL 300
Environmental Geology
3
or GEOG 412
Geomorphology
SOIL 322
Soil Fertility and Fertilizers
3
or SOIL 351
Soil Ecology
SOIL 410
Soils and Land Use
3
or SOIL 444
Soil Genesis and Survey

Required 25 additional elective credits

25
Total Credits
38
Social Sciences
Course List
Code
Title
Credits

Required 10 credits

SOC 340
Social Research Methods
3
SOC 341
Social Research Methods Laboratory
1
SOC 404
Community Assessment
3
SOC 405
Community Development
3

Required 28 additional elective credits

28
Total Credits
38
Pollution Control
Course List
Code
Title
Credits

Required 23 credits

MATH 165
Calculus I
4
CHEM 122
General Chemistry II
3
CHEM 122L
General Chemistry II Laboratory
1
ME 221
Engineering Mechanics I
3
ME 222
Engineering Mechanics II
3
CE 309
Fluid Mechanics
3
CE 370
Introduction to Environmental Engineering
3
CE 408
Water Resources and Supply
3

Required 15 additional elective credits

15
Total Credits
38
Environmental Communication
Course List
Code
Title
Credits

Required 16 credits

COMM 112
Understanding Media and Social Change
3
COMM 200
Introduction to Media Writing
3
NRM 421
Environmental Outreach Methods
3
COMM 485
Risk and Crisis Communication
3
COMM 325
0-4
or SOC 340
& SOC 341
Social Research Methods


and Social Research Methods Laboratory

Required 22 additional elective credits

22
Total Credits
34-38
Natural Resources Economics
Course List
Code
Title
Credits

Required 9 credits

MATH 144
Mathematics for Business
4
ECON 341
Intermediate Microeconomics
3
STAT 331
Regression Analysis
2

Required 29 additional elective credits

29
Total Credits
38