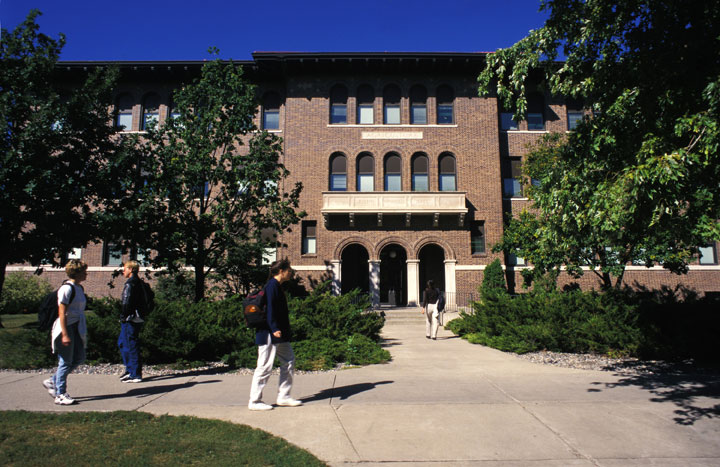 Women and Gender Studies
This is an archived copy of the 2019-20 catalog. To access the most recent version of the catalog, please visit http://bulletin.ndsu.edu.
The women and gender studies major is an interdisciplinary program appropriate as a complement to various majors. This major is particularly useful in acquiring perspectives that work well with traditional studies for developing leadership roles or for pursuing careers that involve gender concerns. Women and gender studies offers an undergraduate major and minor.
The Program
Women and gender studies focuses on gender in society and aims to raise students' aspirations, expand awareness of their capabilities and widen the knowledge and development of all students.
Women and gender studies courses aim to:
enhance the marketability of students who are interested in how issues regarding gender impacts a variety of employment opportunities, including business, social work, education, public policy, healthcare, sport and law;
attract students who are keenly interested in women and gender studies to major in this discipline; and
provide an opportunity for all genders to learn more about the role of gender in society.
The teaching and learning approach tends to be interdisciplinary, emphasizing relationships and connections between traditional disciplines.
General Education
The introductory women and gender studies classes, WGS 110 and 112, provide an avenue for students to fulfill North Dakota State University's cultural diversity requirement while earning the undergraduate major. All students are required to take 39 credits of general education course work from categories including, but not limited to, communication, humanities and fine arts, social and behavioral sciences, wellness, cultural diversity and global perspectives.
Career Opportunities
A women and gender studies student will strengthen skills in writing, critical thinking, oral presentation, team work and leadership. These skills are important in today's evolving job market oriented by increased needs for communication skills, new technologies, rapid economic change and resourceful employees. Women and gender studies courses, which emphasize the value of diversity, relationships and coalition building, prepare graduates to listen, to communicate across differences in background and viewpoint, to analyze current discourse and to respond openly to change. These are all characteristics required to pursue successful careers in teaching and school administration; social services, law enforcement, counseling, community organization, communication, business, marketing, human resources, and management; services and hospitality industries; and in healthcare fields such as nursing, medicine, pharmacy and administration.
The Program Organization
The Women and Gender Studies Advisory Board consists of representatives from various colleges and student life. The women and gender studies director administers the program.
Ashley Baggett - History, Philosophy, and Religious Studies
Alison Bertolini - English and Women and Gender Studies
Ann Burnett - Women and Gender Studies, Director
Erienne Fawcett - Women and Gender Studies, Assistant Director
Margaret Fitzgerald - Human Development and Family Science, Dean
Beth Twomey - Library
Christina Weber - Sociology
1 women and gender studies student representative
The women and gender studies faculty includes NDSU staff who teach a women and gender studies course, or who wish to be allied with the women and gender studies program and identify with the women and gender studies program mission.
You cannot hope to build a better world without improving the individuals. To that end, each of us must work for our own improvement, and at the same time share a general responsibility for all humanity, our particular duty being to aid those to whom we think we can be most useful.              ~Marie Curie
Quote from Light One Candle.  N.Y. Peter Pauper Press, 1991.
The Curriculum
The women and gender studies major consists of a total of 36 approved semester credits. Students must take all seven core courses and then 15 elective credits in their area of choice.
The women and gender studies minor consists of a total of 18 approved semester credits. Students must take two required courses; then they may take four of any of the courses listed as core courses.  At least three credits must be taken in the College of Arts, Humanities and Social Sciences and three credits in the College of Human Development and Education. Appropriate courses not on either the required or core list must be approved by the program administrators.
Plan of Study
Please note this is a sample plan of study and not an official curriculum.  Actual student schedules for each semester will vary depending on start year, education goals, applicable transfer credit, and course availability. Students are encouraged to work with their academic advisor on a regular basis to review degree progress and customize an individual plan of study.
First Year
Fall
Credits
Spring
Credits
COMM 110
3
ENGL 120
3
ENGL 110
4
Humanities and Fine Arts Gen Ed
3
Humanities and Fine Arts Gen Ed
3
Science and Technology Gen Ed
3
Social/Behavioral Science Gen Ed
3
Social/Behavioral Science & Global Perspective Gen Ed
3
Science/Technology Gen Ed
3
Quantitative Reasoning Gen Ed
3
 
16
 
15
Second Year
Fall
Credits
Spring
Credits
WGS 110
3
WGS 112
3
WGS elective
3
WGS elective
3
AHSS Req 1
3
AHSS Req 2
3
Science/Technology w/ Lab Gen Ed
4
Wellness Gen Ed
2
Second major or minor
3
Second major or minor
3
 
16
 
14
Third Year
Fall
Credits
Spring
Credits
WGS 340
3
WGS 370
3
WGS elective
3
WGS elective
3
AHSS Req 3
3
Upper division writing
3
Second major or minor
3
Second major or minor
3
Second major or minor
3
Second major or minor
3
 
15
 
15
Fourth Year
Fall
Credits
Spring
Credits
SOC 424
3
WGS 350
3
WGS elective
3
WGS 489
3
WGS elective
3
Second major or minor
3
Second major or minor
3
Second major or minor
3
Second major or minor
3
Second major or minor
3
 
15
 
15
Total Credits: 121