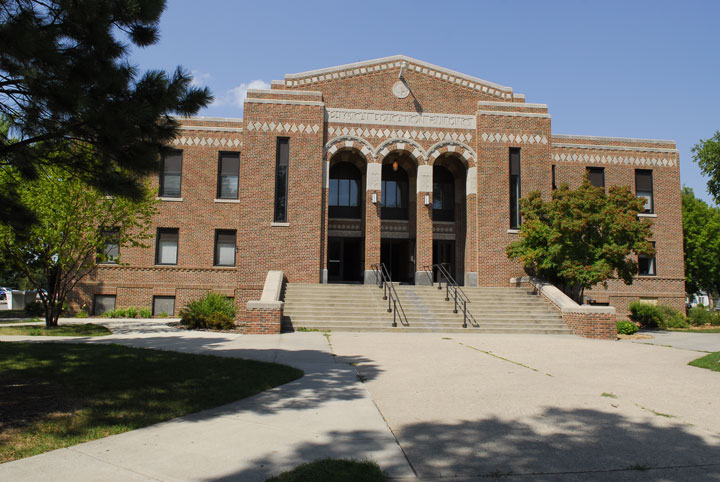 Sport Management
This is an archived copy of the 2019-20 catalog. To access the most recent version of the catalog, please visit http://bulletin.ndsu.edu.
The sport management (SM) major is a four year full-time program of study designed to blend the best of theory with the best of practice in the discipline. SM students are provided with interdisciplinary and advanced study opportunities, as well as on the job educational experiences.
The Program
The SM degree is designed to prepare students for employment in local, state, regional, national or international level sporting and recreation organizations. The course work includes 42 credit hours and a required business administration minor. Additional electives allow for a second supporting minor or emphasis.
Career Opportunities
North Dakota State University SM graduates are employed in a variety of sport and recreation management occupations. Graduates find employment in local, state, regional, national or international level sport and recreation organizations and businesses. In light of the interdisciplinary nature of the SM major's study options, career opportunities beyond the sport or recreation management fields are feasible.
Sport Management Leadership Association
The Sport Management Association provides students with an opportunity to gain experience in the various fields of sport and recreation.  Organization members can take part in sports-oriented community projects, learn about different sport and recreation careers from area professionals and become further prepared for a career in the industry.  Meetings are held regularly and are open to all NDSU students.
Pre-Professional Standing and Professional Standing
The pre-professional SM course in the freshman year is designed to prepare students for additional undergraduate work in the subsequent professional SM curriculum of the sophomore, junior and senior years. To achieve professional standing, a grade of B or better is required in HNES 224. Furthermore, students must earn a minimum cumulative grade point average of 2.75 for all classes by the end of the freshman year. An application for professional standing must be submitted to the SM program coordinator as soon as requirements are met.
Internship
The SM internship is the capstone course for all SM majors. Students participating in an internship will undertake the 516 hour on-the-job training experience (typically the summer prior to the senior year). Advisors assist students in identifying internship opportunities, but each student is required to secure his or her own internship. Securing a host organization outside North Dakota or the United States is not only possible but encouraged.
Agencies where students have completed internships include the United States Olympic Committee, Minnesota Vikings, Saint Paul Saints, Fargo-Moorhead Redhawks, Northwoods League Organizations, the Sanford Pentagon, Oklahoma State University, Arizona State University, The United States Naval Academy, North Dakota State University, and to Fargo and West Fargo parks and recreation departments.
Sequencing Courses for the Major
Courses in the sport management major should be selected in conjunction with a student's academic or faculty advisor to assure prerequisites, GPA requirements, program status, etc., have been met. It is strongly suggested that students plan to complete ACCT 102 and ECON 105, and all general education requirements (other than ENGL 320) prior to the third year so more time is available for upper division core courses, the business minor upper division courses and internship hours during these final semesters.
Plan of Study
Please note this is a sample plan of study and not an official curriculum.  Actual student schedules for each semester will vary depending on start year, education goals, applicable transfer credit, and course availability. Students are encouraged to work with their academic advisor on a regular basis to review degree progress and customize an individual plan of study.
Freshman
Fall
Credits
Spring
Credits
ENGL 110 (Gen Ed Communication)
4
COMM 110 (Gen Ed Communication)
3
HNES 1901
3
COMM 112 (Gen Ed Social & Behavioral Sci)
3
Gen Ed Quantitative Reasoning
3
ENGL 120 (Gen Ed Communication)
3
Gen Ed Wellness
2
Gen Ed Humanities/Fine Arts
3
Gen Ed Social & Behavioral Science
3
Gen Ed Science & Technology
3
 
15
 
15
Sophomore
Fall
Credits
Spring
Credits
ACCT 102 (Busn Minor)
3
ECON 105 (Busn Minor & Gen Ed Global Perspective)
3
COMM 200
3
HNES 224
3
Gen Ed Humanities/Fine Arts & Cult Div
3
HNES 226
3
Gen Ed Science & Technology
3
HNES 274
3
Elective
3
Gen Ed Science & Tech w/ Lab
4
 
15
 
16
Junior
Fall
Credits
Spring
Credits
ENGL 320 (Gen Ed Communication)
3
HNES 431
3
HNES 304
3
HNES 436
3
HNES 4852
3
HNES 4852
3
MGMT 320 (Busn Minor)
3
Business Compentency or Elective
3
MRKT 320 (Busn Minor)
3
Business Compentency or Elective
3
 
15
 
15
Senior
Fall
Credits
Spring
Credits
HNES 425
3
HNES 4852
3
HNES 426
3
Business Minor
3
HNES 4852
3
Business Minor
3
Business Minor
3
Business Compentency or Elective
3
Business Minor
3
Business Compentency or Elective
2
 
15
 
14
Total Credits: 120
| | |
| --- | --- |
| 1 |  Require a grade of B or better |
| 2 | HNES 485 Internship can be taken for variable credit (depending on hours) throughout various terms, including summer, to reach a total 12 credits.  |