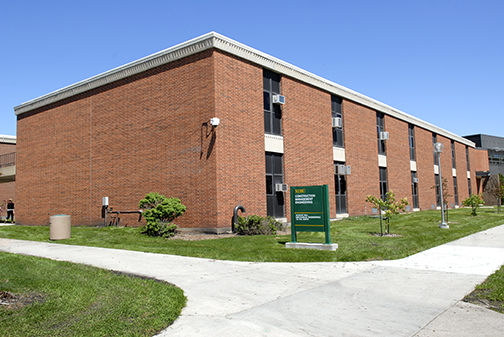 Construction Engineering
This is an archived copy of the 2020-21 catalog. To access the most recent version of the catalog, please visit http://bulletin.ndsu.edu.
The construction industry is one of the largest industries in the United States. It accounts for nearly 8 percent of the nation's gross national product and employs millions of people. The industry is divided into four sectors: residential building construction, industrial construction, commercial building construction, and heavy civil construction. The Department of Construction Management and Engineering provides quality educational programs that prepare nationally competitive undergraduate and graduate students for successful careers in the construction engineering and management professions.
The Program
Construction Engineering involves the planning, design, and management of construction facilities, such as highways, bridges, airports, railroads, buildings, dams, and reservoirs. The construction of such projects requires the knowledge of engineering, management, economics, and business. Construction Engineering is differentiated from Construction Management from the standpoint of the use of math, science, and engineering to design projects and processes and analyze problems. Construction Engineering is involved in a variety of construction disciplines, including: commercial, residential, transportation, and infrastructure systems. Construction Engineers are also involved in the engineering design of temporary structures, cost estimating, planning and scheduling, material procurement, selection of equipment, and cost control. Due to their diverse skills, there is a very high demand for Construction Engineers.
The Department of Construction Management and Engineering offers a Bachelor of Science in Construction Engineering degree which offers a blend of engineering and construction courses. The program is designed for those who want to work in the construction industry and enjoy the status of a professional engineer. A thorough knowledge of the physical sciences, math, and engineering is developed during the first two years followed by construction management and engineering courses. The technical side of the program is balanced with requirements in writing, humanities, social science, and communications. The program leading to the Bachelor of Science in Construction Engineering degree is accredited by the Engineering Accreditation Commission of ABET, www.abet.org.
Program Educational Objectives (PEO)
Program educational objectives (PEO's) are broad statements that describe what graduates are expected to attain within a few years after graduation. Program educational objectives are based on the needs of the program's constituencies. Graduates from the Bachelor of Science in Construction Engineering program are expected to be productive construction engineers who, within the first few years after graduation:
Begin to serve in a middle-level project leadership role in their construction engineering career.
Acquire and use new knowledge and skills in the construction engineering field.
Be respected construction engineers who are valued by their peers, customers, and the general public for their technical expertise and ethical conduct.
Student Outcomes (SO)
The Program Educational Objectives are further connected to seven Student Outcomes (SO), developed by the Engineering Accreditation Commission of ABET, www.abet.org, which describe what students are expected to know and be able to do by the time of graduation. These outcomes relate to the skills, knowledge, and behaviors that students acquire in their matriculation through the program. The Student Outcomes are listed below:
an ability to identify, formulate, and solve complex engineering problems by applying principles of engineering, science, and mathematics
an ability to apply engineering design to produce solutions that meet specified needs with consideration of public health, safety, and welfare, as well as global, cultural, social, environmental, and economic factors
an ability to communicate effectively with a range of audiences
an ability to recognize ethical and professional responsibilities in engineering situations and make informed judgments, which must consider the impact of engineering solutions in global, economic, environmental, and societal contexts
an ability to function effectively on a team whose members together provide leadership, create a collaborative and inclusive environment, establish goals, plan tasks, and meet objectives
an ability to develop and conduct appropriate experimentation, analyze and interpret data, and use engineering judgment to draw conclusions
an ability to acquire and apply new knowledge as needed, using appropriate learning strategies.
Faculty and Staff
The Department of Construction Management and Engineering has a group of faculty and staff members dedicated to teaching, advising and career consultation.  All full-time faculty members have doctoral degrees.  Many of them have professional licenses such as the Professional Engineer (PE) and/or the Certified Professional Constructor (CPC), and have construction related working experiences both in the United States and overseas.  Additionally, the department has many Adjunct professors who are currently working in the construction industry in supervisory roles.
Facilities
The Department of Construction Management and Engineering has well equipped classrooms, computer labs and teaching and research labs for its students.  Classrooms used by the department are equipped with a computer, a Blackboard course management system, Internet access, a projector, a document camera, and an apple TV/AirMedia system.  In addition, the department maintains a computer lab, a virtual reality lab, a concrete lab and a soils lab and shares laboratory space with the Department of Civil Engineering for the structural, geotechnical and surveying labs. The department has the most updated modern teaching and research equipment such as GPS units, robotic total stations, drones, etc. 
Career Opportunities
Construction engineering graduates are in high demand after graduation by contractors in all types of construction, from design-construction firms to large owners who have continuing construction projects. Positions available include field engineer, office engineer, project engineer, project controls engineer, superintendent and project manager. Starting salary has been between $50,000 and $80,000 in the recent years. Summer internships or employment in the construction industry is also available to construction engineering students.  
Industry advisory council
The Industry Advisory Council (IAC) consists of 35 members who specialize in different sectors throughout the construction industry. The IAC helps the program develop the professional body of knowledge appropriate to construction management and engineering. They serve as a liaison between the construction industry and the Department. They advance and support the highest quality faculty, and educational facilities for the student enrolled in the programs. Through active participation, the IAC offers advice, counsel, and provides industry's vision for the program.
Student Organizations
There are four student organizations in the Department of Construction Management and Engineering: Associated General Contractors of America (AGC), National Association of Home Builders (NAHB), Sigma Lambda Chi (SLC), and Student Advisory Board (SAB). AGC Student Chapter competes each year at the Associated Schools of Construction Competition and the Midwest Construction Quiz Bowl. NAHB Student Chapter competes each year at the Residential Construction Management Competition.  SLC is an international construction honor society. SAB provides advising and best practices to first year freshmen, and provides student feedback to the program.
Scholarship Opportunities
The AGC of North Dakota, the Home Builders Care Foundation (a charitable arm of the Home Builders Association of Fargo-Moorhead), and the NAHB offer annual scholarships to outstanding freshmen and upper class students. In addition, many other scholarships, such as Interstates Construction Management and Engineering Scholarship and J.L. McCormick Memorial Trust Scholarship, are available to students. Students can contact the Office of Admission for more information or check the department website at https://www.ndsu.edu/construction/current_students/scholarships/.
Plan of Study
Please note this is a sample plan of study and not an official curriculum.  Actual student schedules for each semester will vary depending on start year, education goals, applicable transfer credit, and course availability. Students are encouraged to work with their academic advisor on a regular basis to review degree progress and customize an individual plan of study.
*To satisfy the Gen Ed Category B requirements, a student can choose between two options: ECON 105 plus an additional course within Category B OR  ECON 201 and ECON 202. Both options satisfy the Gen Ed Catogory G.
** Refer to list of Construction Engineering Technical Electives (CE 400 Level Courses) Minimum 12 Credits)
Gen Ed Category description can be found on the General Education page.