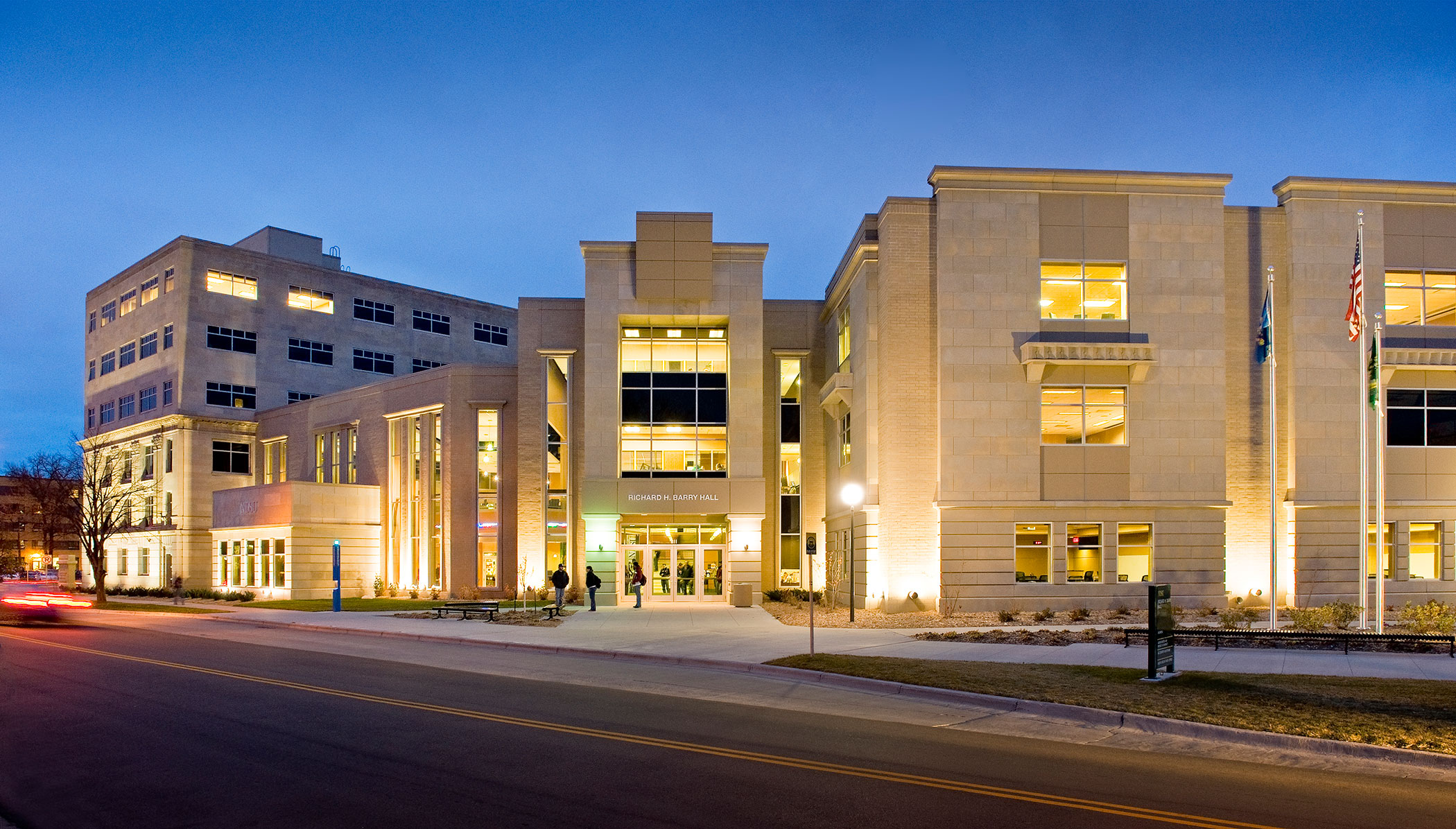 Business Administration
This is an archived copy of the 2018-19 catalog. To access the most recent version of the catalog, please visit http://bulletin.ndsu.edu.
---
Program Description
The Master of Business Administration program at North Dakota State University is a non-thesis, professional program structured to serve qualified students with undergraduate degrees in various fields. The program is designed to provide the student with an effective set of analytical skills, a broad view of the way organizations work, and an understanding of the functional areas of business. The NDSU program takes a generalist approach to graduate business education while providing a variety of electives to give the student the opportunity to pursue a particular area of interest in business or a related discipline. Concentrations in the health care industry, and in supply chain and logistics are offered.  
NDSU business faculty use a variety of teaching methods: case studies, group and individual projects, field research, computer applications, guest lecturers, student presentations, and discussion. Class interaction provides rich opportunity to network with aspiring professionals from a wide range of industries and countries. The student is able to acquire and improve problem-solving, teamwork, and communication skills and to apply these skills in business situations. Teleconferencing software enables distance learners to fully participate in class and complete the MBA program off-site.
Financial Assistance
The College of Business offers financial assistance through graduate assistantships and scholarships. Applicants must be admitted on a conditional or full-standing basis. Assistantships include a stipend and tuition waiver accompanying work within the college.
The tuition waiver is limited to graduate course work. Awards are based on academic excellence as determined by grade point average, high potential as measured by the GMAT score, and the financial needs of the student. Applications are available at www.ndsu.edu/business.
GMAT/GRE**
Individuals seeking admission to the MBA program (or a College of Business graduate certificate program associated with the MBA program) may request a waiver of the GMAT/GRE requirement if they meet one of the following requirements:
The applicant holds a terminal degree (e.g., PhD, MD, JD).
The applicant has a minimum of five (5) years of recent, post-bachelor's, full-time, professional work experience, including managerial responsibilities.
Appropriate documentation (i.e. official transcript, resume) is required to be uploaded to the application file. It does not, however, guarantee a waiver. Applicants are reviewed on a case-by-case basis, and waiver approval is determined at the discretion of the MBA program coordinator and/or director.
The total course requirements necessary to complete the MBA degree will vary depending on the background of the student. An adequate background in the functional areas of business is necessary for all students.
Foundation course areas include accounting, economics, statistics, management, marketing, and finance. Based on previous course work, some or all of these courses may be waived.
Beyond the foundation course requirements, all students must complete 30 semester hours of graduate work. Graduate courses in the MBA Program include the following eight required 2-credit core courses:
Course List
Code
Title
Credits

Core Courses

MBA 701
Strategic Cost Management
2
MBA 702
Advanced Financial Management
2
MBA 703
Advanced Organizational Behavior
2
MBA 704
Supply Chain and Operations Management
2
MBA 705
Strategic Marketing Management
2
MBA 706
Managing Information Resources
2
MBA 707
Microeconomics for Managers
2
MBA 708
Advanced Strategic Management
2

Elective course options for plan of study:

14
Financial Risk Management
Advanced Investment Management
Financial Derivatives
Valuing the Enterprise: Acquisitions and Buyout
Creating and Marketing Innovations
Marketing Analytics and Customer Intelligence
Digital Marketing
Integrated Marketing Communications
Managerial Leadership: Essential Competencies
Management Decision Making
Negotiations and Alternative Dispute Resolution
Business Analytics Concepts
Business Analytics Strategy
Business Analytics Methods
Total Credits
30
---
Health Care Industry Concentration
Course List
Code
Title
Credits

Core Courses

24
PH 704
Public Health Management and Policy
3

Two of the following courses:

6
Healthcare Delivery in the United States
Environmental Health
Social and Behavioral Sciences in Public Health
Cultural Competence Health Care
Total Credits
33
---
Supply Chain Logistics Concentration
Course List
Code
Title
Credits

Core Courses

24

Additional nine credits selected from the following set of courses:

9
Logistics Systems
Introduction to ERP
International Logistics Management
Advanced Supply-Chain Planning Across the Enterprise
ERP Configuration
Adaptive Planning in Logistics Systems
Logistics Decision Analysis
Total Credits
33
---
Margaret Andersen, Ph.D.
Indiana University, 1989
Field: Accounting
Somnath Banerjee, Ph.D. 
University of Central Florida, 2015
Field: Marketing
Scott Beaulier, Ph.D.
George Mason University, 2004
Field: Economics
John Bitzan, Ph.D.
University of Wisconsin-Milwaukee, 1997
Field: Economics
Linlin Chai, Ph.D. 
Iowa State University, 2016
Field: Marketing
Jun Chen, Ph.D. 
University of North Carolina at Charlotte, 2014
Field: Accounting & Information Systems
James W. Clifton, M.Acc.
University of North Dakota, 1988
Field:  Accounting
Thomas D. Dowdell, Ph.D.
Temple University, 2004
Field: Accounting
Rajani Ganesh-Pillai, Ph.D.
University of Central Florida, 2009
Field: Marketing 
Yongtao "David" Hong, Ph.D.
Drexel University, 2008
Field: Accounting
Huichi Huang, Ph.D.
Syracuse University, 2012
Field:  Accounting 
Fariz Huseynov, Ph.D.
University of Memphis, 2009
Field: Finance
Joseph M. Jones, Ph.D.
University of Missouri-Columbia, 1991
Field: Marketing
Bonnie Klamm, Ph.D., CPA
Virginia Commonwealth University-Richmond, 1999
Field: Accounting Information System
Michael Krush, Ph.D.
University of Nebraska – Lincoln, 2009
Field: Marketing 
Derek Lehmberg, Ph.D.
University of Western Ontario, 2010
Field: Strategic Management
Jin Li, Ph.D. 
University of Alberta, 2007
Field: Marketing
Gerry Macintosh, Ph.D. 
University of Nebraska-Lincoln, 1992
Field: Sales and Sales Management
Joshua Marineau, Ph.D.
University of Kentucky, Lexington, 2012
Field: Organizational Behavior
Supavich Pengnate, Ph.D.
Oklahoma State University, 2013
Field: Management Information Systems
Michael J. Peterson, Ph.D.
The University of Iowa, 2002
Field: Accounting
Tim O. Peterson, Ph.D.
Texas A&M University at College Station, 1988
Field: Management/Organizational Behavior
Frederick Riggins, Ph.D.
Carnegie Mellon University, 1994
Field: Management Information Systems
Herbert Snyder, Ph.D.
Syracuse University, 1994
Field: Auditing, Forensic Accounting
Charles D. Stevens, Ph.D.
University of Kansas, 1998
Field: Human Resource Management
Joseph G. Szmerekovsky, Ph.D.
Case Western Reserve University, 2003
Field: Operations
Chanchai Tangpong, Ph.D.
University of Southern Illinois, 2002
Field: Strategic Management
Ruilin Tian, Ph.D.
Georgia State University, 2008
Field: Finance
Rodney D. Traub, Ph.D.
Purdue University, 1994
Field: Operations Management
Newell Wright, Ph.D.
Virginia Polytechnic Institute, 1993
Field: Marketing 
Limin Zhang, Ph.D.
University of Arizona, 2005
Field: Management Information Systems 
Wei "David" Zhang, Ph.D.
Syracuse University, 2001
Field: Finance
Jill Zuber, Ph.D.
University of Arkansas, 2007
Field: Accounting
Emeritus

Bahman Bahrami, Ph.D.
University of Nebraska-Lincoln, 1983
Field: Managerial Economics, Management Information Systems, Labor Relations and Negotiation
C. Frederick Eisele, Ph.D.
University of Iowa, 1971
Field: Labor Management and Negotiation
Karen Froelich, Ph.D.
University of Minnesota, 1994
Field: Strategic Management
Terry W. Knoepfle, J.D., CPA 
University of North Dakota, 1981
Field: Business Law and Tax Accounting