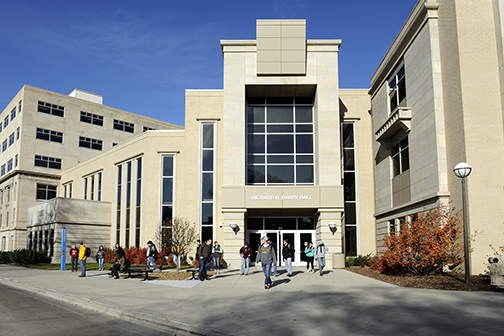 Agribusiness
This is an archived copy of the 2018-19 catalog. To access the most recent version of the catalog, please visit http://bulletin.ndsu.edu.
Agribusiness Major
The Agribusiness major allows students to focus their understanding of economics on the agribusiness sector. Students interested in careers in agribusiness have several options. Beginning in their sophomore year, students take courses in management, marketing and finance, all concentrating on the unique aspects of food and bio-systems economics. Specialization in upper division courses permits students to further concentrate based on their particular interest:
Management: This option provides students with a broad background, preparing them for general career alternatives in agribusiness.
Finance: This option prepares students for careers in agribusiness finance, agricultural lending, financial institution management, accounting, insurance, and investment.
Marketing: This option prepares students for careers in agricultural marketing, sales, or food product marketing.
In the Agribusiness program, students are exposed to a range of methods useful in agribusiness decision-making. Agribusiness graduates will master problem-solving skills to face challenges likely to be encountered in their professional careers.
Agribusiness students are required to participate in an internship during their studies. Employers continue to place high importance on work-related experience when they evaluate potential employees. Employers are assured that all NDSU Agribusiness graduates have gained this valuable work experience through the required internship.
Collaboration with the College of Business leads to the concurrent satisfaction of one of the minors offered by the College of Business. Students may select business courses for the minor that complement their agribusiness interests.
Agribusiness Minor
The Agribusiness minor exposes students to applications of fundamental business concepts in an agricultural or food systems setting. A minimum of eight credits must be completed at NDSU.  The Agribusiness minor is open to all NDSU majors.
Plan of Study
Please note this is a sample plan of study and not an official curriculum.  Actual student schedules for each semester will vary depending on start year, education goals, applicable transfer credit, and course availability. Students are encouraged to work with their academic advisor on a regular basis to review degree progress and customize an individual plan of study.
| | |
| --- | --- |
| * |  Area of specialization requires one core course plus one other course from the specialization. |
| 1 | ECON 189 is only required for first-time, first-year students--A first-time, first-year student is defined as a student who has not yet completed a college course as a college student.  Students that are not first-time, first-year students that either transfer into the university or change their major are not required to take ECON 189 |