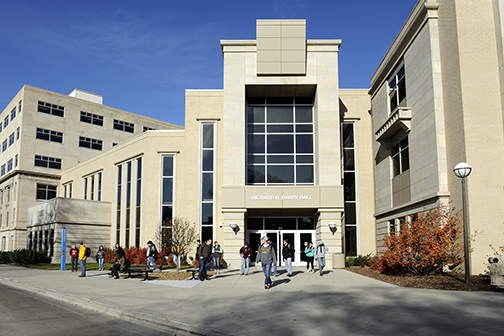 Agricultural Economics
This is an archived copy of the 2018-19 catalog. To access the most recent version of the catalog, please visit http://bulletin.ndsu.edu.
Agricultural Economics Major
Agricultural Economics applies economic principles to the use of private and public resources to provide a safe and affordable food supply, to produce renewable energies, to maintain a sustainable agricultural and natural resources base, and to manage natural and environmental resources for current and future generations.
Students majoring in Agricultural Economics may focus on management, marketing or finance in agriculture, food, and other bio-based systems. This major requires a broad background in the agricultural sciences, with courses from other departments in the College of Agriculture, Food Systems and Natural Resources providing students the scientific basis for applying economic concepts in decision making. Students, with guidance from their academic adviser, have the opportunity to select courses that best fit their career objectives and personal interests. The Agricultural Economics major is ideally suited for students with career interest in production agriculture, farm and natural resource policy analysis, industries providing service to agriculture, rural economic development, and risk management.
Core requirements in the Agricultural Economics major include introductory courses in agricultural management, marketing and finance. Students may choose to take all of the advanced courses in the department, yet flexibility allows building a program based on a student's individual career goals.
Plan of Study
Please note this is a sample plan of study and not an official curriculum.  Actual student schedules for each semester will vary depending on start year, education goals, applicable transfer credit, and course availability. Students are encouraged to work with their academic advisor on a regular basis to review degree progress and customize an individual plan of study.
| | |
| --- | --- |
| 1 | ECON 189 is only required for first-time, first-year students--A first-time, first-year student is defined as a student who has not yet completed a college course as a college student.  Students that are not first-time, first-year students that either transfer into the university or change their major are not required to take ECON 189  |