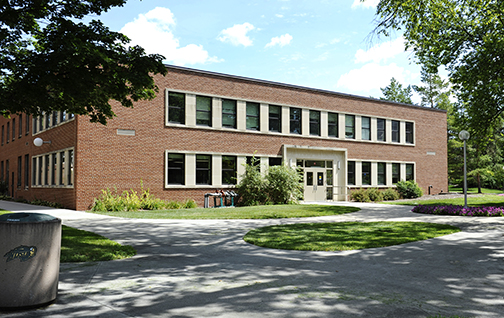 Agricultural Systems Management
This is an archived copy of the 2018-19 catalog. To access the most recent version of the catalog, please visit http://bulletin.ndsu.edu.
Agricultural Systems Management
The Agricultural Systems Management (ASM) program combines an understanding of the agricultural, biological, and physical sciences with economics, managerial, and technical skills. This understanding of science, systems management, and applications engineering can be applied to a career in the production and processing of food, feed, fiber, and fuel, and the marketing, sales, and distribution of agricultural products and services. Students focus on the application of engineering designs, the study of technology used in agriculture, and the integration of business management concepts in the agricultural, food, and closely related industries. Students complete courses in machinery principles, off-road power systems, precision agriculture, commodity handling and processing, natural resources management, electrical and electronic systems, and information and decision support technology.
Taking courses in accounting, economics, marketing, management, business law, sales, and finance develops a strong business background. Personal career objectives may be pursued through specialization in areas such as agribusiness and production agriculture. Students are encouraged to minor in agribusiness, business administration, communication, or another agricultural discipline.
Agricultural Systems Management graduates are often self-employed as owners/operators of commercial farms, ranches, and businesses. Others are employed in positions that provide the link between the consumer and people in fields such as research design, engineering, or manufacturing. They are often also employed as crop consultants or production specialists. Employers include:
companies and agencies that provide inputs, products, and services for agricultural production;
companies or agencies in the business of handling, storing, processing, and distributing agricultural products/commodities and processed food or non-food products; and
companies and agencies that supply physical and business services to rural and urban communities.
This degree is ideal for those interested in careers in technical sales or management of an agriculture-related business involved in production, processing, or manufacturing. The flexibility of the program allows students the opportunity to tailor the curriculum to complement their career goals.
Students interested in the design, testing, manufacturing, and development aspects of products, processes, or systems for agricultural production, food, and value-added processing of commodities, or sustainable management of environmental resources should consider the Agricultural and Biosystems Engineering curriculum.
Curriculum Options
Production Agriculture: Students select courses in agricultural sciences and supporting areas to achieve career goals in the technical and management aspects of production agriculture systems.
Applied Business: Students select courses in agribusiness, business, and related areas to achieve career goals in agricultural and related areas to achieve career goals in agricultural and related business areas.
Dealership Management: This option is designed for students who want careers as equipment dealership managers or with equipment manufacturers. Technology, agribusiness, and communication are emphasized. Requirements include a minor in business administration or agribusiness, two paid internships with equipment dealerships, and an additional communication course.
Agricultural Systems Management Minor
A minor in Agricultural Systems Management is available to students from other majors by working with department faculty to select 16-21 credits in Agricultural Systems Management. A minimum of eight credits must be completed at NDSU.
Plan of Study
Please note this is a sample plan of study and not an official curriculum.  Actual student schedules for each semester will vary depending on start year, education goals, applicable transfer credit, and course availability. Students are encouraged to work with their academic advisor on a regular basis to review degree progress and customize an individual plan of study.