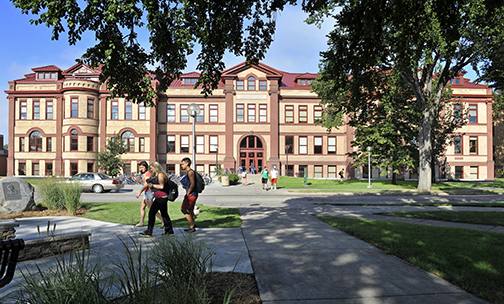 Behavioral Statistics
This is an archived copy of the 2018-19 catalog. To access the most recent version of the catalog, please visit http://bulletin.ndsu.edu.
This degree is a joint effort between the Department of Statistics and the Department of Psychology. It is recommended that a student wishing to obtain a degree in Behavioral Statistics consult with an adviser in both departments. This major prepares students for careers involving collecting and analyzing data on human behavior, for example, in Medicare, insurance, market research, or health, educational and social services. Graduates of this program are expected to have good quantitative reasoning skills and to have strong people skills. Note: this curriculum also fulfills requirements for the major in Psychology.
Plan of study
Please note this is a sample plan of study and not an official curriculum.  Actual student schedules for each semester will vary depending on start year, education goals, applicable transfer credit, and course availability. Students are encouraged to work with their academic advisor on a regular basis to review degree progress and customize an individual plan of study.
Freshman
Fall
Credits
Spring
Credits
ENGL 110
4
ENGL 120
3
MATH 103 (or higher level)
3
Humanities & Fine Arts Gen. Ed.
3
PSYC 111
3
Any 200 level PSYC class
3
Science & Technology Gen. Ed.
3
Science & Technology Gen. Ed.
3
Social & Behavioral Sciences Gen. Ed.
3
Science & Technology Lab
1
 
Social & Behavioral Sciences Gen. Ed.
3
 
16
 
16
Sophomore
Fall
Credits
Spring
Credits
STAT 330
3
STAT 331
2
200 level PSYC
3
PSYC 351
3
PSYC 350
3
COMM 110
3
Science & Technology Gen. Ed.
3
Humanities & Fine Arts Gen. Ed.
3
Wellness Gen. Ed.
2
Cultural Diversity Gen. Ed.
3
 
14
 
14
Junior
Fall
Credits
Spring
Credits
Global Perspectives Gen. Ed.
3
Hum/Soc. Science Elective
3
200- 400 Level PSYC Elective
3
PSYC Behavior Elective
3
200- 400 Level PSYC Elective
3
PSYC Behavior Elective
3
Hum/Soc. Science Elective
3
STAT Elective
3
PSYC Behavior Elective
3
STAT Elective
3
 
15
 
15
Senior
Fall
Credits
Spring
Credits
400 level PSYC class
3
PSYC 480, 489, or STAT 491
3
STAT 462
3
STAT 470 or 471
3
Elective
3
Elective
3
Elective
3
Elective
3
Elective
3
Elective
3
 
15
 
15
Total Credits: 120