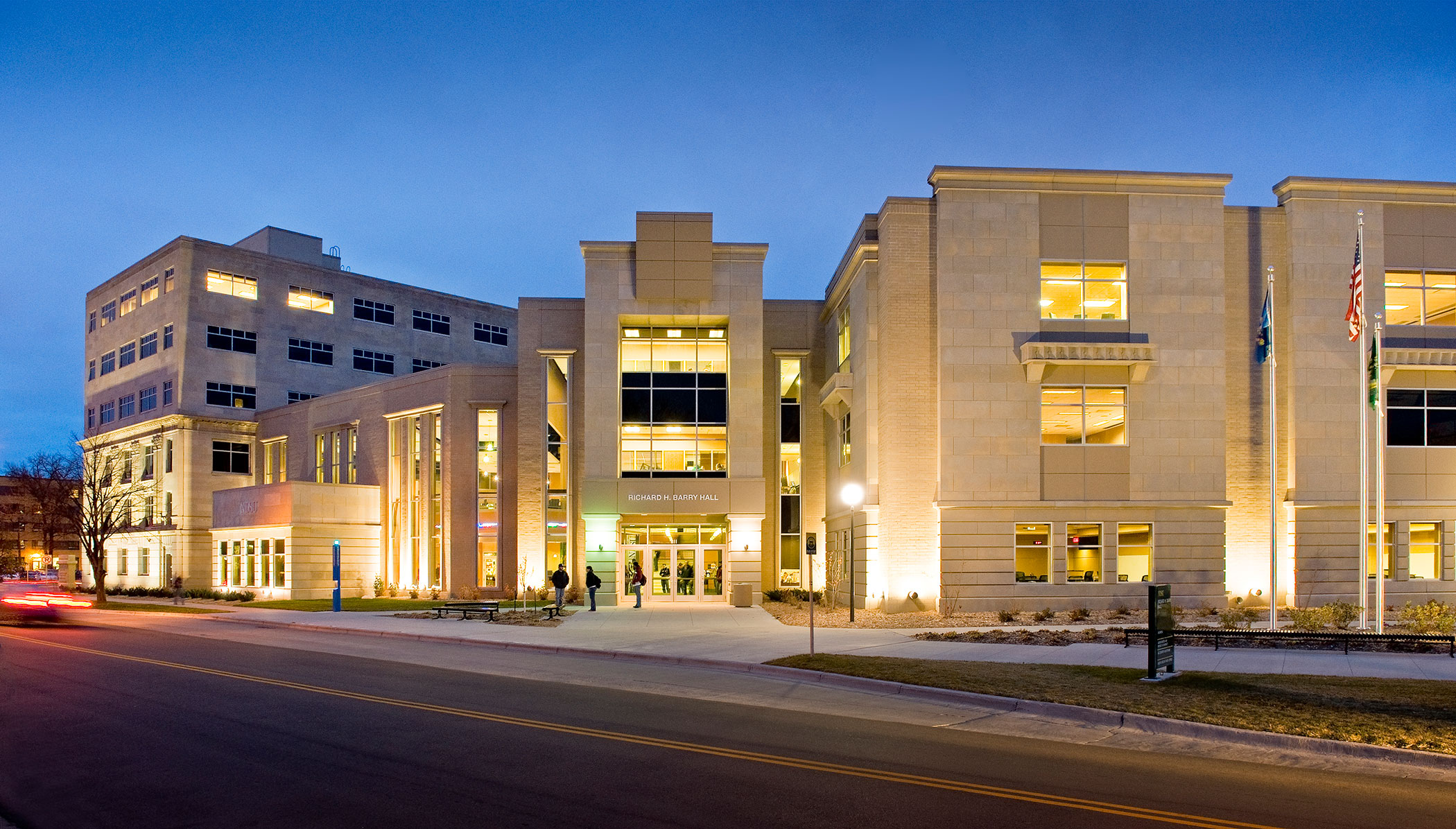 Business Administration
This is an archived copy of the 2018-19 catalog. To access the most recent version of the catalog, please visit http://bulletin.ndsu.edu.
Business Administration Major
The Business Administration major is designed to provide students with a broad background in all of the aspects of business. Business Administration might be an appropriate major for students who will either work in smaller organizations or own their businesses, which will require a broader understanding of business. In addition, some organizations may seek generalists rather than specialists because they may be more adaptable in rapidly changing business environments. This major might also be appropriate for students intending to go on to graduate studies that would benefit from a broad understanding of business, e.g., law school.  The Business Administration major curriculum is also designed with a 21-credit business elective block plus 3 credits of 300-400 level free electives built into the program.  These electives allow students to pursue their personal or professional interest in certain business domains, which can be in forms of a specific track, certificate, and/or topic-based courses fitting the business knowledge/skills they want to develop.
Supply Chain Management Track
The Supply Chain Management track provides students with the background necessary to perform well in a wide range of supply chain environments. Students are exposed to areas such as transportation and logistics, supply chain modeling, vendor managed inventory, supplier and customer relationship management, revenue management, purchasing, cost of ownership, and risk assessment. 
Business Administration Minor
Majors outside the College of Business often select a minor in Business Administration to enhance their competencies and marketability through business-related knowledge and skills. A minor in Business Administration requires a minimum of 24 credits. At least 12 credits in 300-400 level BUSN, FIN, MGMT, and MRKT courses must be completed at NDSU in the College of Business. Prior departmental approval is required for any 300-400 level course not completed at NDSU but used to satisfy the minor requirements. 
Students must earn a 2.50 grade point average that is based on the courses used for the Business Administration minor. A minor approval form is required and can be found at https://www.ndsu.edu/business/programs/majors/minors/business-administration-minor. This minor is not available to students with majors in the College of Business.
Plan of Study
Please note this is a sample plan of study and not an official curriculum.  Actual student schedules for each semester will vary depending on start year, education goals, applicable transfer credit, and course availability. Students are encouraged to work with their academic advisor on a regular basis to review degree progress and customize an individual plan of study.
| | |
| --- | --- |
| 1 |  These 21 credits (7 business elective courses) must include at least 3 different course prefixes within the College of Business (i.e., ACCT, BUSN, ENTR, FIN, MGMT, MIS, and MRKT). |
Note:
Business Administration majors can pursue a supply chain management track as part of their program, provided that the 300-400 level business and free electives taken meet the track requirements.