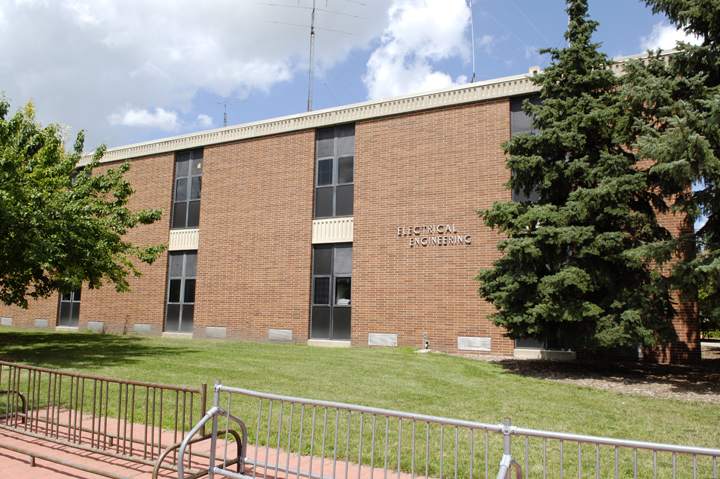 Computer Engineering
This is an archived copy of the 2018-19 catalog. To access the most recent version of the catalog, please visit http://bulletin.ndsu.edu.
Computer Engineering Major
The Computer Engineering program provides a background in three broad areas: computer hardware, software, and hardware-software integration. Fundamental topics included in the program are embedded systems, computer architecture, digital systems, software engineering, computer networks, and operating systems. In addition, the program includes core subjects that are common to all engineering disciplines and basic university studies in humanities and social science. The Bachelor of Science degree in Computer Engineering is accredited by the Engineering Accreditation Commission of ABET, http://www.abet.org.
CpE Specialization
The Computer Engineering program allows students to tailor their studies within broad parameters. Students are encouraged to develop an individual program of study in close consultation with their advisers. Examples are available to illustrate how specialization may be obtained in a number of different technical areas. Students may mix and match from the examples to suit their particular interests. Technical areas include the following:
Computer Architecture/Digital VLSI -- VLSI Designers and Computer Architects design computer system hardware, including how the CPU communicates with various types of memory, and high-performance multi-processor systems. VLSI Design focuses on the lower levels of abstraction: transistor-level and physical-level design; whereas Computer Architecture focuses on the higher levels of abstraction: architecture and gate-level design.

Cyber Physical Systems deal with the interaction of computing elements monitoring/controlling physical entities, often in a large network.

Embedded Systems deal with the design of a dedicated computer system to perform a specific task, often requiring real-time constraints. An example is a smartphone.

Computer Systems deals with the close interaction between a system's hardware and software.
Please note this is a sample plan of study and not an official curriculum.  Actual student schedules for each semester will vary depending on start year, education goals, applicable transfer credit, and course availability. Students are encouraged to work with their academic advisor on a regular basis to review degree progress and customize an individual plan of study.
| | |
| --- | --- |
| 1 | Students must take ECE 111 prior to enrolling in ECE courses listed above in the Junior or Senior years; otherwise, students must take an additional ECE Elective in lieu of ECE 111. |
| 2 | Select from ENGL 320, 321, 324 or 459 to satisfy the Upper Level Writing for General Education. |
| 3 | Suggested to take ENGR 311. |
| 4 | Suggested to take ENGR 312, ECON 105, ECON 201 or ECON 202.. |
PROGRAM NOTES:
ECE Elective: any didactic ECE 4xx course (not x93, 494, 496).
Tech Elective: any didactic 4xx course from ECE or CSCI, or any of the following: CSCI 336, CSCI 366, CSCI 372, ECE 311, ECE 321, ECE 351, ECE x93, ECE 494, ECE 496 (max 3 credits), ENGR 310, PHYS 252, IME 440, IME 456, IME 460 and IME 470.
Students must earn a "C" or better in ECE 173, ECE 275, EE 206 and all required MATH courses, before enrolling in ECE courses listed above in the Junior or Senior years.