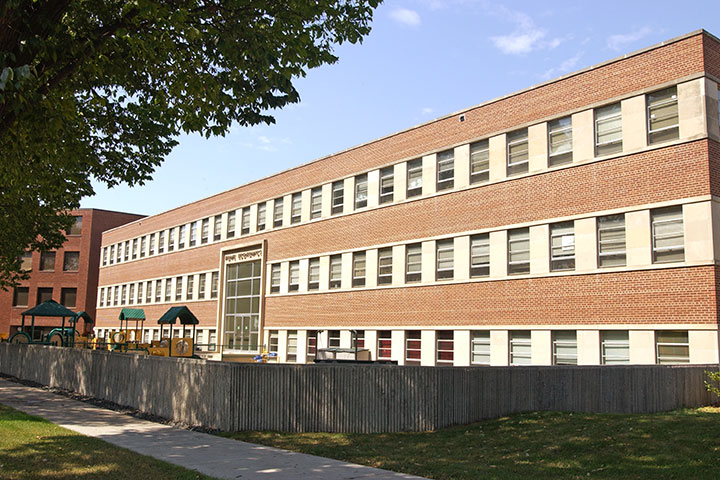 Elementary Education & Human Development and Family Science
This is an archived copy of the 2018-19 catalog. To access the most recent version of the catalog, please visit http://bulletin.ndsu.edu.
The Human Development and Family Science (Child Development option) & Elementary Education program is a collaborative effort between NDSU and Valley City State University (VCSU). Through this curriculum, offered on the NDSU campus, students are concurrently enrolled in both universities, culminating in a bachelor's degree from NDSU in Human Development and Family Science (Child Development option) as well as a bachelor's degree from VCSU in Elementary Education. Students are certified to teach Elementary Education in public schools and may, with additional course work and an additional student teaching experience, be certified to teach kindergarten as well. The HDFS degree complements and strengthens the Elementary Education curriculum and helps future teachers understand development and its diversity, making them more effective teachers and helping them work with children from a wide variety of backgrounds.
Plan of Study
Please note this is a sample plan of study and not an official curriculum.  Actual student schedules for each semester will vary depending on start year, education goals, applicable transfer credit, and course availability. Students are encouraged to work with their academic advisor on a regular basis to review degree progress and customize an individual plan of study.
Freshman
Fall
Credits
Spring
Credits
 
HD&E 189
1
ENGL 120
3
 
HDFS 135
3
MATH 104
3
 
PSYC 111
3
CSCI 114 or MIS 116
3
 
ENGL 110
4
HIST 103 or 104
3
 
COMM 110
3
HDFS 230 or PSYC 250
3
 
Science & Tech Gen Ed
3
 
 
 
17
 
15
Sophomore
Fall
Credits
Spring
Credits
 
HDFS Elective (any level)
3
HDFS 330
3
 
HDFS 242
3
HDFS 300-400 level elective
3
 
HDFS 250
3
Science & Tech Gen Ed
3
 
Science & Tech Gen Ed
3
EDUC 250: Introduction to Education
3
 
Co-Req Science & Tech Gen Ed Lab Course
1
EDUC 283: Understanding Cultural Diversity
3
 
Humanities & Fine Arts Gen Ed
3
 
 
 
16
 
15
Junior
Fall
Credits
Spring
Credits
Summer
Credits
HDFS 475
3
HD&E 320
1
EDUC 210: Creative Activities
2
HDFS 300-400 level elective
3
EDUC 315: Math Methods
3
 
EDUC 300: Education Technology
2
EDUC 320: Social Studies Methods
3
 
EDUC 240: Exceptional Students
3
EDUC 321: Foundation of Reading
3
 
MATH 277: Math for Elementary Education I
3
EDUC 330: Children's Literature
3
 
EDUC 352: Culturally Diverse Practicum
1
EDUC 450: Assessment & Education Issues
2
 
GEOG 111
2
MATH 278: Math for Elementary Education II
2
 
 
17
 
17
 
2
Senior
Fall
Credits
Spring
Credits
 
ENGL 320, 325, 358, or 459
3
HDFS 496*
1
 
EDUC 322: Language Arts Methods
3
EDUC 400: Educational Psychology
2
 
EDUC 323: Reading Methods
2
EDUC 490: Student Teaching
10
 
EDUC 350: Elementary Education Practicum
2
EDUC 491: Seminar (Senior Portfolio)
1
 
EDUC 355: Science Methods
3
 
 
 
13
 
14
Total Credits: 126
| | |
| --- | --- |
| * | Students should NOT enroll themselves in HDFS 496 via Campus Connection.  The NDSU Registration and Records office automatically enrolls students in the course during the student's teaching semester. |