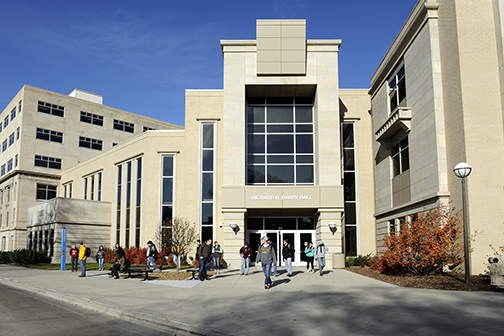 Finance
This is an archived copy of the 2018-19 catalog. To access the most recent version of the catalog, please visit http://bulletin.ndsu.edu.
Finance Major
Finance is a discipline that studies the optimal ways of using monetary resources for individuals, businesses and all other organizations. The integration of global financial markets and institutions presents opportunities not seen in generations for Finance students and graduates. By providing a four-year, 123-credit-hour program that leads to a Bachelor of Science degree, we aim to prepare future leaders in corporate financial management, investment banking, business consulting, commercial lending, portfolio analysis and risk management.
The Finance program at NDSU currently offers students a broad base of knowledge centered on Finance, including Principles of Finance (FIN320), Investments (FIN410), Financial Derivatives (FIN420), Financial Institutions (FIN430), International Finance (FIN440), Corporate Finance (FIN460), Fixed-Income Securities (FIN470), and Applied Portfolio Management (FIN 480). The coursework also benefits students interested in pursuing Finance-related professional certifications such as the Certified Financial Planner (CFP) and Chartered Financial Analyst (CFA).
Based on the projection of the U.S. Bureau of Labor Statistics, employment among Finance professionals is expected to grow by 9 percent from 2010 to 2020. Among NDSU graduates, the average entry-level salary of a Finance major was $41,000 and the highest reported salary of a Finance major was $80,000 in 2015, according to NDSU Career Center.
Plan of Study 
Please note this is a sample plan of study and not an official curriculum.  Actual student schedules for each semester will vary depending on start year, education goals, applicable transfer credit, and course availability. Students are encouraged to work with their academic advisor on a regular basis to review degree progress and customize an individual plan of study.
| | |
| --- | --- |
| 1 | Approved electives include College of Business courses or those with the following prefixes: AGEC, CSCI, ECON MATH, and STAT. Must earn a letter grade.  |