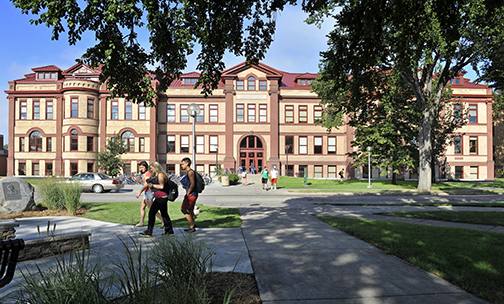 History
This is an archived copy of the 2018-19 catalog. To access the most recent version of the catalog, please visit http://bulletin.ndsu.edu.
History Major
By engaging in the fascinating study of how people in the past understood their worlds, graduates from the Department of History, Philosophy, and Religious Studies will be prepared to comprehend and think critically about the present by understanding how it has been shaped by the past. In their studies they will learn how to evaluate the strengths and weaknesses of alternative explanations for historical events, how to interpret primary and secondary materials to form valid conclusions, how to analyze components of historical events, and how to synthesize and apply their knowledge in an original research project.
The Department of History, Philosophy, and Religious Studies offers both a B.A. and a B.S. degree in History. The B.A. degree requires the completion of two years of a modern language at the college level and is recommended for students desiring a rich liberal arts education or planning for graduate school or law school (see Bachelor of Arts Requirement using a Second Language). The B.S. degree does not have a modern language requirement but, instead, requires an appropriate minor. Students transferring to NDSU must complete at least 50 percent of their history credits at North Dakota State University. A History Education program of study also is offered between the Department of History, Philosophy, and Religious Studies and the School of Education.
History majors can prepare themselves for careers in secondary education by completing a double major with either a B.A. or B.S. in History with a second major in History Education. The department advises students to choose History as their primary major.
Lists of approved courses for the distribution and sequence requirements and courses recommended for History Education majors are at the department web site.
History Minor
Students who minor in History are required to complete nine credits of 100-200 level History courses and nine credits of 300-400 level History courses.
Plan of Study
Please note this is a sample plan of study and not an official curriculum.  Actual student schedules for each semester will vary depending on start year, education goals, applicable transfer credit, and course availability. Students are encouraged to work with their academic advisor on a regular basis to review degree progress and customize an individual plan of study.
First Year
Fall
Credits
Spring
Credits
HIST 101 or 103
3
HIST 102 or 104
3
ENGL 110
4
COMM 110
3
GE Social/Behavioral Requirement
3
ENGL 120
3
GE Quant. Reasoning
3
AHSS Humanities Requirement
3
GE Wellness
3
GE Science/Technology
3
 
GE Science/Technology Lab
1
 
16
 
16
Second Year
Fall
Credits
Spring
Credits
HIST 135, 259, or 270
3
HIST 254
3
HIST 390
3
HIST 281
3
AHSS Fine Arts Requirement
3
GE Science/Technology
3
GE Science/Technology
3
GE Humanities/Fine Arts Req.
3
GE Social/Behavioral Sciences Req.
3
AHSS Social Sciences Req.
3
 
15
 
15
Third Year
Fall
Credits
Spring
Credits
HIST 450 (or Any European History Course)
3
HIST 421 (or Any US History Course)
3
HIST 470 (Any World History Course)
3
HIST 440 (or Any European History Course)
3
300-400 History Elective
3
Minor/Foreign Language
3
Minor/Foreign Language
3
Minor/Free Electives
6
Minor/Free Elective
3
 
 
15
 
15
Fourth Year
Fall
Credits
Spring
Credits
HIST 465 (Or Any European History Course)
3
300-400 Level History Elective
3
HIST 489
3
300-400 Level History Elective
3
Minor/Foreign Language
3
Minor/Foreign Language
3
300-400 Level History Electives
6
Minor/Free Electives
6
 
15
 
15
Total Credits: 122