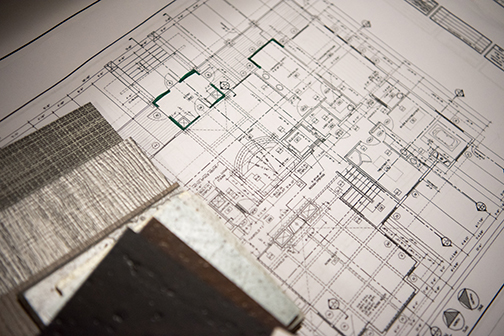 Interior Design
This is an archived copy of the 2018-19 catalog. To access the most recent version of the catalog, please visit http://bulletin.ndsu.edu.
Interior Design Major
A professional interior designer is one who is qualified by education, examination, and experience to identify, research and creatively solve problems relative to the function and quality of people's interior environments. The course of study in interior design leads to a first professional degree.
Students pursue courses in which creative and technical skills are applied within a structure to achieve the built interior environment. Design solutions are functional, enhance the quality of life of occupants, and are aesthetically pleasing while adhering to code and regulatory information. Design solutions produce, protect, and enhance the health, safety and welfare of the public. Students learn how to approach design problems through a methodology that includes data gathering, product specification, identification of details, contractual documents, and design business procedures.
The first two years of the program introduces the fundamentals of design, visual and technical communication techniques (including drafting, CADD, perspective drawing, model building, 3D modeling, and rendering), and theoretical and practical applications (including anthropometrics, ergonomics, interior design technology, interior materials, and color theory). The interior design profession is exceedingly complex, and collaborating with design professionals and related disciplines in a team approach to problem solving is routine practice. Beginning their first year through their final semester, students interact with professionals during industry tours, critiques, and guest speaking events providing a direct connection to the interior design profession.
Upper-division course work is focused on a series of integrated studio experiences and supports courses including history, professional practice, building information modeling, and interior systems. The studio experience culminates in a capstone project. Studio experiences require that each student be exposed to a variety of projects at several different levels of complexity and different client project goals.
NDSU interior design students are required to complete a field experience between the third and fourth year of the program. Students accept a variety of positions throughout the United States. In the past few years students have completed field experiences in cities such as Los Angeles, Minneapolis, Denver, Florida, New York, Ireland, and Shanghai (China).
Laptop computers are required equipment for all first-year students beginning the spring semester. These computers need to be built to operate industry specific programs.  Refer to the interior design program website for computer specifications.
Admission into second-year interior design courses requires a 3.0 institutional minimum cumulative grade-point average and a minimum grade of 'C' in all major core requirements.  Admission into the second-year of the interior design program is also based on the review of a completed application and letter of intent that demonstrates professional and academic interest.  This is submitted during the spring semester of the student's first year in the interior design program. Students must maintain the 3.0 institutional minimum cumulative GPA and earn a grade of 'C' or better in all major core requirements throughout the remainder of the program. Transfer students entering the interior design program should contact the program coordinator to review previously completed interior design or related course work.
The interior design program at NDSU is accredited by the Council for Interior Design Accreditation and the National Association of Schools of Art and Design.
Plan of Study
Please note this is a sample plan of study and not an official curriculum.  Actual student schedules for each semester will vary depending on start year, education goals, applicable transfer credit, and course availability. Students are encouraged to work with their academic advisor on a regular basis to review degree progress and customize an individual plan of study.
| | |
| --- | --- |
| * | Minor Options: One of the following minors is required: Art; Business; Hospitality and Tourism Management; Apparel, Retail Merchandising and Design; Foreign Language (French, German, Spanish); Communication; History; Gerontology; Emergency Management; Natural Resource Management; other minor options may be approved by interior design faculty.(Total Credits required to complete minors will vary). |