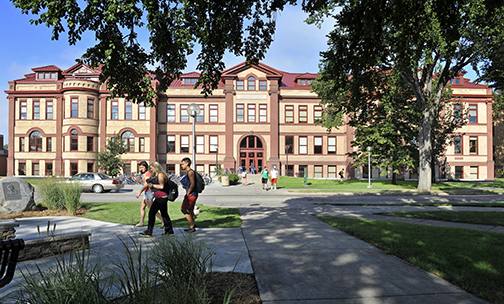 Journalism
This is an archived copy of the 2018-19 catalog. To access the most recent version of the catalog, please visit http://bulletin.ndsu.edu.
Journalism is a 45-credit major offered by the Department of Communication. Undergraduate majors may choose from professional emphases in print journalism or broadcasting.  Students interested in pursuing an undergraduate degree offered by the Department of Communication must first complete all courses and requirements associated with the pre-communication preparation designation. Once all pre-communication preparation courses and requirements are met, the student completes and submits the transition form, available on the department's Blackboard site, to the department's academic advisor. After verification of accuracy, the student is accepted into the professional program and can continue pursuing a degree in the Department of Communication.
Pre-Communication Preparation
Students must complete 19 credits of selected courses with a 3.0 cumulative GPA or above to become a journalism major. The courses are COMM 110; COMM 112; COMM 114; COMM 189; COMM 212; COMM 214; and ENGL 120. Pre-communication preparation courses may be retaken only once.
Journalism Major
Students majoring in journalism may earn a Bachelor of Science degree (includes an approved minor) or a Bachelor of Arts degree (includes a modern language proficiency) upon completion of all pre-communication preparation courses and requirements. Students will select one of two tracks. The print track will orient students to the principles and practices of news reporting and writing as both a practice and field of study. The broadcasting track will introduce students to the principles and practices of TV production and broadcasting.
Journalism Minor
Many other majors offered at North Dakota State University can be greatly enhanced by a journalism minor. The 21-credit minor includes a nine-credit core and 12 credits of communication professional specialization.
Plan of Study
Please note this is a sample plan of study and not an official curriculum.  Actual student schedules for each semester will vary depending on start year, education goals, applicable transfer credit, and course availability. Students are encouraged to work with their academic advisor on a regular basis to review degree progress and customize an individual plan of study.
First Year
Fall
Credits
Spring
Credits
COMM 112
3
COMM 110
3
COMM 114
3
ENGL 120
3
COMM 189
1
Global Perspectives GE
3
ENGL 110 (or placement)
4
Humanities/Arts GE
3
Quantitative Reasoning GE
3
Science/Technology GE
3
Wellness GE
2
Science/Technology Lab GE
1
 
16
 
16
Second Year
Fall
Credits
Spring
Credits
COMM 200
3
COMM 320
3
COMM 212
3
Major Elective
3
COMM 220
3
Minor or Language Coursework
3
Minor or Language Coursework
3
Humanities/Arts GE
3
Science/Technology GE
3
Science/Technology GE
3
 
15
 
15
Third Year
Fall
Credits
Spring
Credits
COMM 310
3
Major Elective
3
COMM 496
3
Major Elective
3
Major Elective
3
Minor or Language Coursework
3
Minor or Language Coursework
3
Minor or Language Coursework
3
Upper Division Writing
3
AHSS Requirement
3
 
15
 
15
Fourth Year
Fall
Credits
Spring
Credits
COMM 431
3
COMM 465
3
Major Elective
3
Major Elective
3
Minor or Language Coursework
3
Minor or Language Coursework
3
AHSS Requirement
3
Additional Coursework or Internship
6
Additional Coursework or Internship
3
 
 
15
 
15
Total Credits: 122