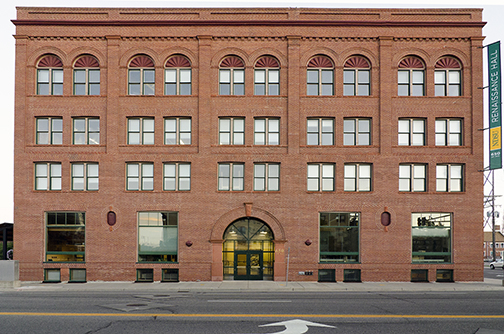 Landscape Architecture
This is an archived copy of the 2018-19 catalog. To access the most recent version of the catalog, please visit http://bulletin.ndsu.edu.
The Landscape Architecture program is one of approximately 63 accredited programs in the United States. The curriculum is reviewed periodically by the nationally organized Landscape Architecture Accreditation Board (LAAB) and has been fully accredited since 1991. In 2019 we anticipate having the accreditation visit for our newly formed Master of Landscape Architecture Program. NDSU offers a 5-year first-professional Master of Landscape Architecture degree program housed in Klai Hall in downtown Fargo. Most students entering the graduate program in landscape architecture come directly from the NDSU pre-professional Bachelor of Environmental Design program. The curriculum includes field trips to various domestic destination.  Both traditional and digital media are emphasized. An optional semester abroad, plus foreign study tours during summers are offered.
Landscape architects provide a wide variety of professional services for individual clients, organizations, corporations, and government agencies. They are involved at every phase of the development of a site, from the initial discussion of ideas with the client through the supervision of construction for the project.
Master planning of parks, zoos, golf courses, playgrounds, and recreation areas are familiar projects for landscape architects. They may also design multifunctional areas for urban renewal projects, college campuses, industrial parks, new communities, natural areas, reclaimed lands, and wetlands.
Besides designing sites, landscape architects often select building locations, prepare cost estimates, initiate long-range planning studies, determine utility corridors, and prepare environmental impact statements for future construction. Whether specializing within a large firm of landscape architects or working in a small professional office, the landscape architect is often collaborating with other professionals, such as engineers, city planners, and architects.
Landscape architects investigates and analyze potential project sites, developing field notes for plan layouts, completing visual surveys, and design research. It is at the computer and drawing board that projects are actually organized and shaped into a creative and imaginative solutions. The work and responsibility of each landscape architect depends principally on individual interests and abilities. Opportunities may range from professional practice on a small scale to administration of governmental programs.
Those who plan careers in landscape architecture should be able to work independently, have a capacity for solving technical problems, be artistically inclined, and be willing to learn computing programs. They should be prepared to work in the competitive environment of the profession, where great value is placed on leadership and the ability to work effectively with others.
Admission Requirements
Students currently enrolled in the 4-year pre-professional degree at NDSU may apply to the Master of Landscape Architecture program. Transfer students with pre-professional or professional degrees in landscape architecture from another school may be considered for admission into the program, based on test scores, GPA, transfer courses, and portfolio review.

Candidates must have earned a cumulative grade point average of 3.0 to be considered for full graduate standing.
Special Notice
Students in the second year of the program will be required to purchase a laptop computer. Information on type of computer, software, purchase, and financing arrangements will be distributed to students prior to purchase.
Plan of Study
Please note this is a sample plan of study and not an official curriculum.  Actual student schedules for each semester will vary depending on start year, education goals, applicable transfer credit, and course availability. Students are encouraged to work with their academic advisor on a regular basis to review degree progress and customize an individual plan of study.