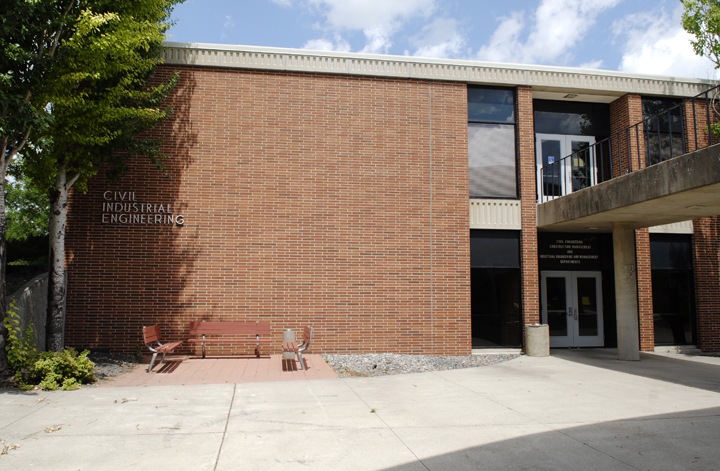 Manufacturing Engineering
This is an archived copy of the 2018-19 catalog. To access the most recent version of the catalog, please visit http://bulletin.ndsu.edu.
Manufacturing Engineering Major
Manufacturing Engineering is a good choice for people who have both aptitude and interest in working in manufacturing environment and produce physical products for improved living standard for the general populace. This career field is focused on design and production of any type of goods—from automobiles and tractors and airplanes…to electronic products, recreational products, sports equipment, books and toys…to foodstuffs. Manufacturing engineers are employed in every industry that designs and produces goods/services.
These days manufacturing engineers focus on designing seamless integration of different elements of manufacturing processes. They may concentrate on integrating the many different processes and parts necessary to make up finished products—as production engineers. Or, as manufacturing systems engineers, they may take a very wide view of the manufacturing enterprise, including its supply chain, distribution channels, financial structure and resource management. In every particular focus, manufacturing engineers are the people who design the processes through which products are made with the required functionality, to high quality standards, in the quantities needed, available when and where customers prefer, and at the best possible price.
Every day, manufacturing engineers make decisions about technology, machinery, people, and money. The preparation for the excitement and challenge of modern manufacturing requires students to master the mathematics and applied science common to all engineering disciplines. They then will master the fundamentals of process engineering and production engineering so that they may apply these principles to production of any type of goods.
The Bachelor of Science degree in Manufacturing Engineering is accredited by the Engineering Accreditation Commission of ABET, http://www.abet.org. The curriculum is designed to produce baccalaureate-level graduates who are well prepared to accept engineering positions in industry and government or to pursue advanced degree studies. Graduates of the Manufacturing Engineering program will be able to:
Have established successful career in industrial and manufacturing engineering and beyond by demonstrating professionalism and ownership of their work with increasing responsibility and positive impact.
Have acquired new knowledge and expertise through professional development opportunities and/or higher education as a part of their life-long learning mission and professional growth.
Have demonstrated commitment to uphold higher ethical and professional standards at workplace and appreciate the impact of diverse opinions and solutions in a global/societal context.
Be productive citizen by committing to serve their profession and communities at appropriate levels. 
Manufacturing Engineering graduates are well positioned to select career employment in any manufacturing industry. Graduates are actively recruited by companies that produce agricultural and construction machinery and vehicles, complex industrial apparatus, recreational vehicles, airplanes, household goods, building products, and both industrial and consumer electronics. Manufacturing Engineering graduates generally begin their careers designing processes and production systems or directly managing some phase of manufacturing. Frequently, they progress to increased responsibilities, with broader scope and yet more opportunity.
Manufacturing Engineering Areas of Emphasis
Students majoring in Manufacturing Engineering may prepare for specific career choices by careful use of the technical electives and the Engineering Science electives included in the Manufacturing Engineering major. It is suggested that students confer with their academic adviser for assistance in choosing the most appropriate optional courses. These topical areas also are available for post-graduate study, leading to Master of Science in Manufacturing Engineering, Master of Science in Industrial Engineering,  and Doctor of Philosophy in Industrial and Manufacturing Engineering degrees. For more complete details, see the Graduate Bulletin online.
Selective Admission 
The Department of Industrial and Manufacturing Engineering has a selective admission policy. To be admitted to the Manufacturing Engineering program, freshman applicants must have a minimum high school GPA of 2.5 and a composite ACT score of 21 or higher. Transfer students, whether from another university or from another department at NDSU, must have an institutional grade point average of at least 2.30.
Manufacturing Sequences for Non-Majors
Most industrial enterprises engage in the production of some sort of goods in some way and to some degree. Students majoring in other disciplines can enhance their career value by expanding their knowledge of process engineering and production engineering. For students majoring in other engineering disciplines or in the agricultural or physical sciences, the technological foundations of manufacturing can be acquired through IME 330 Manufacturing Processes,IME 380 CAD/CAM for Manufacturing, IME 430 Process Engineering and IME 431 Production Engineering. Also, engineering majors from other disciplines may elect to acquire more depth through advanced manufacturing courses (IME 427 Packaging for Electronics, IME 432 Composite Materials Manufacturing, IME 433 Additive Manufacturing, IME 435 Plastics and Injection Molding Manufacturing, and  IME 437 Methods for Precision Manufacturing).
Manufacturing Engineering Minor
Most industrial enterprises engage in the production of some sort of goods in some way and to some degree. Students majoring in other disciplines can enhance their career value by expanding their knowledge of the technologies, processes and systems of manufacturing. A minor in Manufacturing Engineering may be earned by any student in good standing and majoring in any engineering discipline or applicable agricultural or physical sciences. Students electing to pursue this minor will be expected to have achieved the necessary pre-requisite knowledge, consisting of basic calculus, statistics and physical sciences. Students completing a minor in Manufacturing Engineering will gain highly relevant understanding of the technologies, machine tools, fixturing and tooling, and production systems employed in the manufacture of a wide variety of goods used in modern society.
Interested students are encouraged to visit with relevant faculty in the IME Department for advice on course selection to best suit their career interests.
Please note this is a sample plan of study and not an official curriculum.  Actual student schedules for each semester will vary depending on start year, education goals, applicable transfer credit, and course availability. Students are encouraged to work with their academic advisor on a regular basis to review degree progress and customize an individual plan of study.