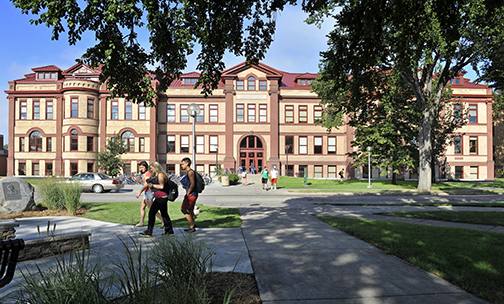 Mathematics
This is an archived copy of the 2018-19 catalog. To access the most recent version of the catalog, please visit http://bulletin.ndsu.edu.
Mathematics is the language of science and technology. Its explosive development during the 20th Century and its history as the oldest and most highly developed discipline make math one of the most exciting and rewarding areas of study for the 21st Century.
In the past few years, a tremendous increase has occurred in the need for mathematics and mathematicians. In such fields as actuarial science, computer science, statistics, engineering, economics and commerce, mathematical training is in high demand.
If you enjoy mathematics and are good at it, you will find both challenges and opportunities in the Department of Mathematics at North Dakota State University. Your advisor, a faculty member in the department, will provide you with information concerning courses, curricula and the many exciting and rewarding careers open to mathematics graduates. The Cooperative Education Program offers the possibility of academic credit for on-the-job training. The student mathematics organization, Math Club, brings in both academic and nonacademic speakers who explore career possibilities and fascinating topics in mathematics at club meetings. Opportunities for paper grading and tutoring are available and allow students to deepen their understanding by assisting others in learning mathematics.
Our faculty members contribute research findings in a variety of areas in theoretical and applied mathematics to internationally known journals. This wide variety of areas of specialization and expertise of faculty members in the department means that you will probably find someone both interested and knowledgeable in any area of mathematics that might fascinate you.
The Department of Mathematics offers a broad and balanced curriculum of courses taught by a faculty of 15. A student may choose to major in mathematics or mathematics education. Minors in related areas are encouraged. These choices may be made immediately or deferred until the basic course work is completed. In addition to the Bachelor of Science degree, the department offers master's and doctorate degrees.  Our students have been very successful in finding employment. Graduates are working in a wide variety of corporations, agencies, universities and school systems. A number continue on for advanced degrees.
Plan of Study
Please note this is a sample plan of study and not an official curriculum.  Actual student schedules for each semester will vary depending on start year, education goals, applicable transfer credit, and course availability. Students are encouraged to work with their academic advisor on a regular basis to review degree progress and customize an individual plan of study.
Freshman
Fall
Credits
Spring
Credits
MATH 165
4
MATH 166
4
MATH 129
3
MATH 329
3
ENGL 110
4
COMM 110
3
Gen Ed Humanities/Fine Arts
3
ENGL 120
3
 
Gen Ed Social/Behavioral Sciences
3
 
14
 
16
Sophomore
Fall
Credits
Spring
Credits
MATH 265
4
MATH 266
3
MATH 270
3
MATH 346
3
Related Required Course (15 credits of a minor or 2nd major or elective with at least two 300+ level courses)
3
Related Required Course (15 credits of a minor or 2nd major or elective with at least two 300+ level courses)
3
Gen Ed Humanities/Fine Arts & Cultural Diversity
6
Gen Ed Social/Behavioral Sciences & Global Perspectives
6
 
16
 
15
Junior
Fall
Credits
Spring
Credits
MATH 420
3
MATH 452
3
MATH 450
3
MATH 483
3
Gen Ed Upper Level Writing
3
MATH 300-400 Elective
3
Gen Ed Wellness
2
Gen Ed Science & Tech w/lab
4
MATH 300-400 Elective
3
Related Required Course (15 credits of a minor or 2nd major or elective with at least two 300+ level courses)
3
 
14
 
16
Senior
Fall
Credits
Spring
Credits
MATH 300-400 Electives
4-6
MATH 491
1
Related Required Course (15 credits of a minor or 2nd major or elective with at least two 300+ level courses)
3
MATH 300-400 Electives
6
Gen Ed Science & Tech
3
Related Required Course (15 credits of a minor or 2nd major or elective with at least two 300+ level courses)
3
Electives
3
Gen Ed Science & Tech
3
 
Electives
3
 
13-15
 
16
Total Credits: 120-122