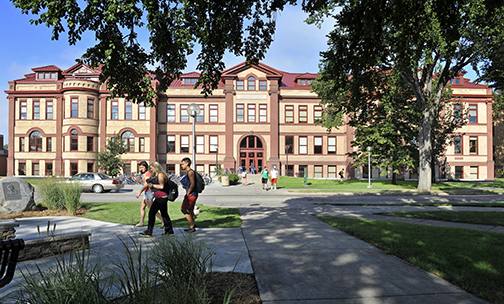 Philosophy/Humanities
This is an archived copy of the 2018-19 catalog. To access the most recent version of the catalog, please visit http://bulletin.ndsu.edu.
Through interdisciplinary study, students develop an awareness and understanding of the major events and ideas that have shaped the civilization in which they live.
Philosophy-Humanities Major
People have always had questions about the world in which they live. Whether these questions are about truth, beauty, and goodness, or about whether life has any meaning, people find questions to ask. Over the centuries, many minds have addressed these questions. By means of dialogue, intuition, logic, and critical thought, philosophers have created pathways to wisdom and an understanding of the human condition.
North Dakota State University offers students a Philosophy curriculum that may be approached either as a Philosophy-Humanities major or minor.
The Philosophy-Humanities major consists of 32 semester credits. Of these, 21 credits must be taken from the required courses. Eleven elective credits, which can be independent studies, complete the major. Each degree has additional university and College of Arts, Humanities and Social Sciences requirements that must be fulfilled.
Philosophy-Humanities Minor
The Philosophy-Humanities minor consists of 21 semester credits: the minor required courses plus six elective credits from the elective philosophy courses, including independent studies.
Please note this is a sample plan of study and not an official curriculum.  Actual student schedules for each semester will vary depending on start year, education goals, applicable transfer credit, and course availability. Students are encouraged to work with their academic advisor on a regular basis to review degree progress and customize an individual plan of study.
First Year
Fall
Credits
Spring
Credits
ENGL 110
4
ENGL 120
3
PHIL 101
3
PHIL 210 or 215
3
PHIL 257
3
GE Quantitative Reasoning
3
GE Science and Technology
3
GE Science and Technology
3
GE Social and Behavioral Science
3
GE Social and Behavioral Science
3
 
16
 
15
Second Year
Fall
Credits
Spring
Credits
COMM 110
3
PHIL 323 or 324
3
PHIL 321 or 322
3
GE Wellness
2
GE Humanities Req.
3
AHSS Social and Behavioral Science
3
GE Science and Technology w/ Lab
4
GE Fine Arts Req.
3
Minor/Free Elective
3
Free Electives
6
 
16
 
17
Third Year
Fall
Credits
Spring
Credits
PHIL 450 or 486
3
PHIL 451
3
AHSS Humanities Req.
3
AHSS Fine Arts Req.
3
Minor or Foreign Language
3
Minor or Foreign Language
3
Minor or Free Electives
6
Minor or Free Electives
6
 
15
 
15
Fourth Year
Fall
Credits
Spring
Credits
PHIL/HUM Electives
6
PHIL/HUM Electives
5
Minor or Foreign Language
3
Minor or Foreign Language
3
Minor or Free Electives
6
Minor or Free Electives
6
 
15
 
14
Total Credits: 123