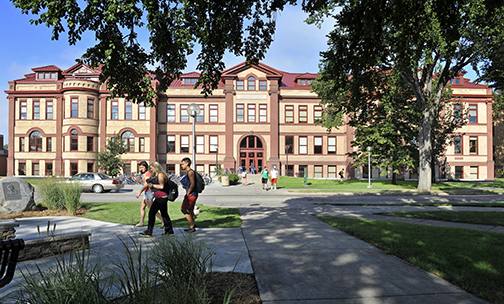 Sociology
This is an archived copy of the 2018-19 catalog. To access the most recent version of the catalog, please visit http://bulletin.ndsu.edu.
Sociology is the scientific study of social structure, social inequality, social change, and social interaction that comprise societies. The sociological perspective examines the broad social context in which people live. This context shapes our beliefs and attitudes and sets guidelines for what we do.
The curriculum is structured to introduce majors to the sociology discipline and provide them with conceptual and practical tools to understand social behavior and societies. Areas of study include small groups, populations, inequality, diversity, gender, social change, families, community development, organizations, medical sociology, aging, and the environment.
Please note this is a sample plan of study and not an official curriculum.  Actual student schedules for each semester will vary depending on start year, education goals, applicable transfer credit, and course availability. Students are encouraged to work with their academic advisor on a regular basis to review degree progress and customize an individual plan of study.
First Year
Fall
Credits
Spring
Credits
ANTH 111
3
SOC 115 or 116
3
SOC 110
3
COMM 110
3
ENGL 110
4
ENGL 120
3
Science/Technology
3
Humanities/Fine Arts
3
Wellness
2-3
MATH 104
3
 
15-16
 
15
Second Year
Fall
Credits
Spring
Credits
SOC 214
3
SOC 233
3
STAT 330
3
SOC 235
3
AHSS Requirement
3
Science/Technology with lab
4
Science/Technology
3
Language/Minor
3
Language/Minor
3
Humanities/Fine Arts
3
 
15
 
16
Third Year
Fall
Credits
Spring
Credits
SOC 340
3
SOC 422
3
SOC 341
1
Sociology electives
6
Upper Level Writing
3
Language or minor
3
Language or Minor
3
Internship or additional course
3
Sociology Elective
3
 
Global Perspective
3
 
 
16
 
15
Fourth Year
Fall
Credits
Spring
Credits
SOC 489
1
Electives @ 300-400 level
6
Electives @ 300-400 level
9
AHSS requirement
3
Electives or minor
6
Elective or minor
6
 
16
 
15
Total Credits: 123-124