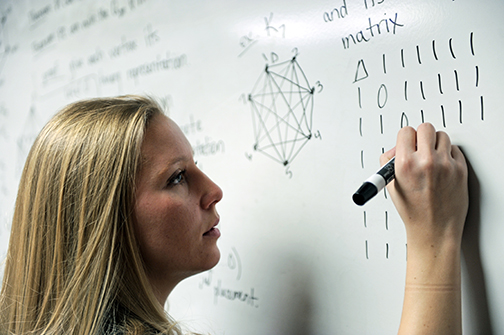 Statistics
This is an archived copy of the 2018-19 catalog. To access the most recent version of the catalog, please visit http://bulletin.ndsu.edu.
Statistics Major
The Department of Statistics offers a major leading to a B.S., B.A., M.S., or Ph.D. degree, as well as minors in Statistics for both undergraduate and graduate students. The program is flexible enough to be individually planned around prior experience and in accord with professional goals. The program emphasis is on applied statistics, consulting, and computational methods.
Statistics Minors
Two different tracks within the Statistics minor are offered. A Department of Statistics (Morrill 221) adviser for minors must approve the program.
Plan of Study
Please note this is a sample plan of study and not an official curriculum.  Actual student schedules for each semester will vary depending on start year, education goals, applicable transfer credit, and course availability. Students are encouraged to work with their academic advisor on a regular basis to review degree progress and customize an individual plan of study.
Freshman
Fall
Credits
Spring
Credits
ENGL 110
4
ENGL 120
3
COMM 110
3
MATH 129
3
MATH 165
4
MATH 166
4
STAT 330
3
CSCI 114
3
Wellness Gen Ed
2
Social & Behavioral Sciences Gen Ed (Global Perspectives or Cultural Diversity)
3
 
16
 
16
Sophomore
Fall
Credits
Spring
Credits
STAT 367
3
STAT 368
3
STAT 461
3
CSCI 160
4
MATH 265
4
Minor Requirement
3
Humanities & Fine Arts Gen Ed (Global Perspectives or Cultural Diversity)
3
Humanities and Fine Arts Gen Ed
3
Science and Tech Gen Ed w/Lab
4
Science and Technology Gen Ed
3
 
17
 
16
Junior
Fall
Credits
Spring
Credits
Statistics Elective
6
STAT Elective
3
Minor Requirement
3
Minor Requirement
3
Social and Behavioral Sciences Gen Ed
3
Upper Division Writing Gen Ed
3
CSCI 222 or MATH 270
3
Humanities/Social Sciences Gen Ed
3
 
15
 
12
Senior
Fall
Credits
Spring
Credits
STAT Elective
3
STAT 462
3
Minor Requirement
3
STAT Elective
3
Humanities/Social Sciences Gen Ed
3
Minor Requirement
4
Electives
6
Electives
3-6
 
15
 
13-16
Total Credits: 120-123