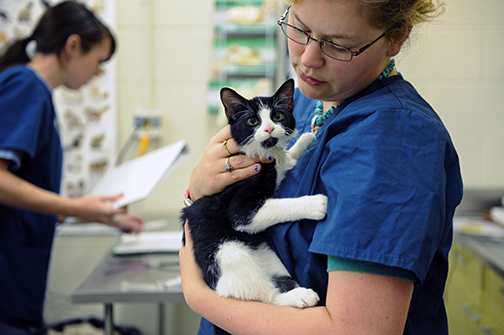 Veterinary Technology
This is an archived copy of the 2018-19 catalog. To access the most recent version of the catalog, please visit http://bulletin.ndsu.edu.
Veterinary Technology Major
Veterinary Technology is an exciting and challenging major that offers a multitude of career opportunities in animal health care and related areas. This major offers a well-rounded program of general and clinical studies. Graduates are prepared not only for traditional veterinary practice careers, but also for pursuit of emerging non-traditional careers through the choice of electives and minor areas of study.
The first pre-professional year of the Veterinary Technology program is open to all interested students and offers an opportunity to explore the veterinary technology field. Advancement into the professional program in the second year is limited to a maximum of 28 students who are selected on a competitive basis.
The Veterinary Technology program is accredited by the American Veterinary Medical Association.
Plan of Study
Please note this is a sample plan of study and not an official curriculum.  Actual student schedules for each semester will vary depending on start year, education goals, applicable transfer credit, and course availability. Students are encouraged to work with their academic advisor on a regular basis to review degree progress and customize an individual plan of study.