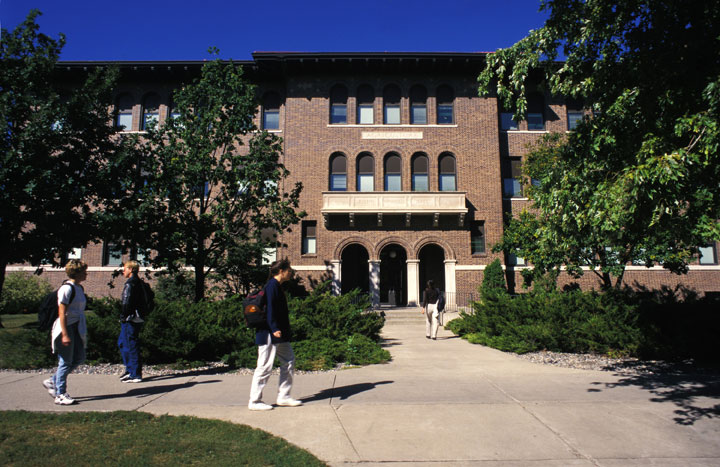 Women and Gender Studies
This is an archived copy of the 2018-19 catalog. To access the most recent version of the catalog, please visit http://bulletin.ndsu.edu.
Women and Gender Studies examines the contributions of all genders to aspects of society; explores the intersections of race, class, sexual orientation, age, and physical ability with gender both globally and nationally; and provides a newer and broader understanding of gender in all fields. It may be a major that you discover after taking a WGS introductory, general education class that inspires you to learn more. Dual majors are common, as WGS shares commonalities with areas such as business, communication, human development, and sociology, for example.
Both the WGS major and minor provide the benefits of a liberal arts education with an emphasis on critical thinking, writing, organizational skills, and oral presentations. The Women and Gender Studies graduate is a well-rounded individual who is prepared for leadership in areas such as the workplace, politics, health care, sport, families, education, and law.
Women and Gender Studies Major
The Women and Gender Studies major consists of 36 credits, including a 21 credit core and 15 hours of elective classes. 
Women and Gender Studies Minor
The Women and Gender Studies minor is an interdisciplinary program appropriate as a complement to various majors. This minor is particularly useful in acquiring perspectives that supplement traditional studies for developing leadership roles or for pursuing careers that involve concerns about gender.
Plan of Study
Please note this is a sample plan of study and not an official curriculum.  Actual student schedules for each semester will vary depending on start year, education goals, applicable transfer credit, and course availability. Students are encouraged to work with their academic advisor on a regular basis to review degree progress and customize an individual plan of study.
First Year
Fall
Credits
Spring
Credits
COMM 110
3
ENGL 120
3
ENGL 110
4
Humanities and Fine Arts Gen Ed
3
Humanities and Fine Arts Gen Ed
3
Science and Technology Gen Ed
3
Social/Behavioral Science Gen Ed
3
Social/Behavioral Science & Global Perspective Gen Ed
3
Science/Technology Gen Ed
3
Quantitative Reasoning Gen Ed
3
 
16
 
15
Second Year
Fall
Credits
Spring
Credits
WGS 110
3
WGS 112
3
WGS elective
3
WGS elective
3
AHSS Req 1
3
AHSS Req 2
3
Science/Technology w/ Lab Gen Ed
4
Wellness Gen Ed
2
Second major or minor
3
Second major or minor
3
 
Second major or minor
3
 
16
 
17
Third Year
Fall
Credits
Spring
Credits
WGS 340
3
WGS 370
3
WGS elective
3
WGS elective
3
AHSS Req 3
3
Upper division writing
3
Second major or minor
3
Second major or minor
3
Second major or minor
3
Second major or minor
3
 
15
 
15
Fourth Year
Fall
Credits
Spring
Credits
SOC 424
3
WGS 350
3
WGS elective
3
WGS 489
3
WGS elective
3
Second major or minor
 
Second major or minor
3
Second major or minor
3
Second major or minor
3
Second major or minor
3
 
15
 
12
Total Credits: 121