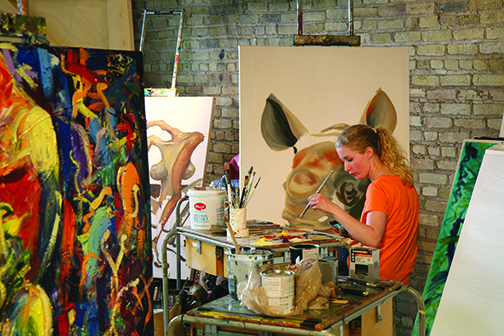 Art Education
This is an archived copy of the 2020-21 catalog. To access the most recent version of the catalog, please visit http://bulletin.ndsu.edu.
Art Education is offered as a BS degree in collaboration with the NDSU School of Education. A minimum of 120 credit hours are needed for graduation.
Plan of Study
Please note this is a sample plan of study and not an official curriculum.  Actual student schedules for each semester will vary depending on start year, education goals, applicable transfer credit, and course availability. Students are encouraged to work with their academic advisor on a regular basis to review degree progress and customize an individual plan of study.
First Year
Fall
Credits
Spring
Credits
ART 122
3
ART 131
3
ART 124
3
ART 211 (A)
3
ART 210 (A)
3
ENGL 120 (C)
3
ENGL 110 (C)
4
Gen Ed Wellness (W)
2
Gen Ed Social and Behavioral Sci & Global Perspectives (B & G)
3
Gen Ed Quantiative Reasoning (R)
3
 
ART 100 Level - Intro Studio
3
 
16
 
17
Second Year
Fall
Credits
Spring
Credits
ART 230
3
EDUC 322
3
EDUC 321
3
Gen Ed Science and Tech with Lab (S)
4
COMM 110 (C)
3
ART 100 Level - Intro Studio
3
ART 100 Level - Intro Studio
3
Gen Ed Social & Behavioral Sci and Cult Diversity (B & D)
3
ART 45X - Art History Rotation
3
ART 45X - Art History Rotation
3
*Complete Praxis Core Academic Skills Exam
 
*Foundations Portfolio Review
 
 
*Apply to School of Education
 
 
15
 
16
Third Year
Fall
Credits
Spring
Credits
EDUC 451
3
ART 335
3
ART 200 Level - Studio Emphasis
3
EDUC 481
2-3
ART 100 Level - Intro Studio
3
Gen Ed Science & Tech (S)
3
ART 45X - Art History Rotation
3
Gen Ed Upper Division Writing (C)
3
ART 100 Level - Intro Studio
3
ART 300 Level - Studio Emphasis
3
 
*Apply for Baccalaureate
 
 
15
 
14-15
Fourth Year
Fall
Credits
Spring
Credits
EDUC 482
2-3
EDUC 485
1
EDUC 486
3
EDUC 487
9
ART 489
3
EDUC 488
3
ART 400 Level - Studio Emphasis
3
 
Gen Ed Science & Tech (S)
3
 
*Capstone Exhibition
 
 
*Apply to Student Teaching (Meeting TBA)
 
 
*Complete Praxis Content and PTL exams
 
 
 
14-15
 
13
Total Credits: 120-122