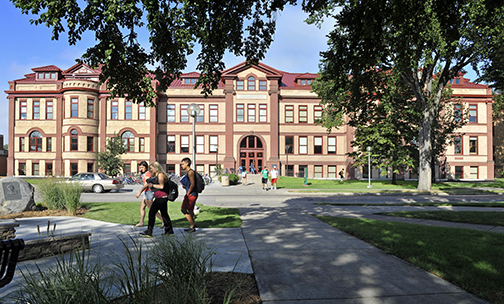 Strategic Communication
This is an archived copy of the 2020-21 catalog. To access the most recent version of the catalog, please visit http://bulletin.ndsu.edu.
Strategic Communication is one of four majors offered by the Department of Communication. Students may choose from professional emphases in advertising or public relations.
Why Choose a Major in the Department of Communication?
Our programs are designed to meet the needs and interests of today's students. We provide:
More time to explore your interests. The introductory courses are the same for all four of our majors, making it possible to switch between our programs without extending your graduation timeline.
Personalized guidance on choosing a career. Our Majors and Careers in Communication course helps you meet others in your major, learn more about possible careers, and navigate the program with your professional goals in mind.
Hands-on learning. You'll have multiple ways to apply what you are learning through course projects, consulting for local organizations, and participating in national competitions.
Built-in communities. You can connect with other students by joining any of the eight student organizations affiliated with our majors.
Field experience. Our internship coordinator helps you acquire professional experience and a stronger sense of your future career.
Strategic Communication Major
A public relations emphasis will orient students to the principles and practices of public relations, an advertising emphasis to the principles and practices of advertising. Students will complete an applied capstone course in their final semester. Students majoring in strategic communication may earn a Bachelor of Science degree (includes an approved minor) or a Bachelor of Arts degree (includes a modern language proficiency).
Admission to the Major
Students complete 18 credits of Pre-Communication courses with a minimum 3.00 GPA to be admitted to the professional program in strategic communication. These courses include COMM 110, COMM 112, COMM 114, COMM 212, COMM 220, and ENGL 120.
Internship Requirement
Internships offer practical experience for strategic communication students. Three credits (120 hours) of field experience are required for the major, and many students complete more than one internship. Students have interned with advertising/marketing firms, non-profits, and media companies in the Fargo-Moorhead area and beyond. Internships often lead to jobs.
Career Opportunities
Coursework in the strategic communication major prepares students for careers that include graphic design, copy writing/editing, client services, event planning, promotion, evaluation, publicity and media relations, creative design, professional business consulting, and corporate training. The courses in each emphasis area promote written and oral communication skills and prepare students to communicate in meaningful and effective ways with a variety of audiences.
Extra-Curricular Activities
Students majoring in strategic communication are encouraged to gain experience by joining the Advertising Club or the department's chapter of the Public Relations Student Society of America (PRSSA). NDSU has two honoraries for top students majoring in a degree program offered by the Department of Communication. Pi Kappa Delta is a national honor fraternity for students involved in human communication activities. Lambda Pi Eta is a national honorary for communication majors with high academic achievement.
High School Preparation
A well-rounded high school education with experiences in high school music, forensics, theater, journalism, FFA, or scouting serves as good preparation for the strategic communication major. Students with interests in science and art, business and service, and publicity and promotion will find a major in this department to be a good fit.
Scholarships
The Department of Communication awards a number of scholarships to students who excel in academics and who have demonstrated career potential. Applications are due by March 1. Visit the department website for details.
The Faculty
Faculty members in the Department of Communication are dedicated teachers, scholars, and practitioners who are committed to providing high-quality courses, hands-on learning experiences, and opportunities for undergraduate research. We encourage students who want to learn more about strategic communication to reach out via email or schedule an appointment via Navigate.
Plan of Study
Please note this is a sample plan of study and not an official curriculum.  Actual student schedules for each semester will vary depending on start year, education goals, applicable transfer credit, and course availability. Students are encouraged to work with their academic advisor on a regular basis to review degree progress and customize an individual plan of study.
First Year
Fall
Credits
Spring
Credits
COMM 101
1
COMM 110
3
COMM 112
3
COMM 200
3
COMM 114
3
ENGL 120
3
ENGL 110 (or placement)
4
Humanities/Arts GE
3
Quantitative Reasoning GE
3
Science/Technology GE
3
Wellness GE
2
Science/Technology Lab GE
1
 
16
 
16
Second Year
Fall
Credits
Spring
Credits
COMM 212
3
COMM 375
3
COMM 220
3
Major Elective
3
Minor or Language Coursework
3
Minor or Language Coursework
3
Global Perspectives GE
3
Humanities/Arts GE
3
Science/Technology GE
3
Science/Technology GE
3
 
15
 
15
Third Year
Fall
Credits
Spring
Credits
COMM 377
3
COMM 425
3
Major Elective
3
COMM 496
3
Minor or Language Coursework
3
Major Elective
3
AHSS Requirement
3
Minor or Language Coursework
3
Upper Division Writing
3
AHSS Requirement
3
 
15
 
15
Fourth Year
Fall
Credits
Spring
Credits
COMM 431
3
COMM 472, 473, or 476
3
COMM 470
3
Major Elective
3
Major Elective
3
Major Elective
3
Minor or Language Coursework
3
Minor or Language Coursework
3
Additional Coursework or Internship
3
Additional Coursework May Be Required to Reach 120 Credits
1
 
15
 
13
Total Credits: 120