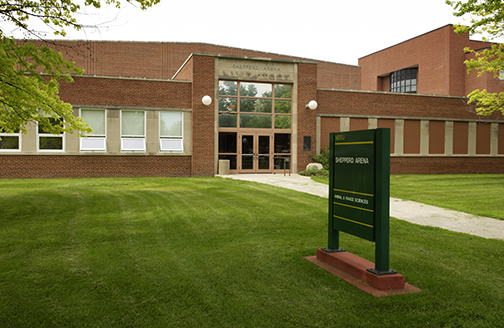 Animal Science
This is an archived copy of the 2019-20 catalog. To access the most recent version of the catalog, please visit http://bulletin.ndsu.edu.
The animal science major at North Dakota State University encompasses physiology, nutrition, genetics, reproduction, marketing, management and husbandry of livestock and companion animals; the important scientific understanding for the utilization of animal products; and experiences necessary for leadership in, and advocacy for, industries providing animals and animal products that benefit humans.
The Program
The Department of Animal Sciences offers degree programs in animal science, equine science, and veterinary technology. The faculty and staff conduct teaching, research and extension programs to support production and utilization of many types of animals, including beef cattle, dairy cattle, sheep, swine and horses, as well as other managed animals, including those providing other types of food and fiber, companion animals and animals in zoos.
The Curriculum
Five study options are available for the animal science major.
Animal Production, Management and Husbandry – This option is designed for students wanting a background in the principles of animal management and husbandry. It includes broad training in animal husbandry, production and management. Employment opportunities include careers in livestock production, allied and technical support fields, including agricultural positions within the Cooperative Extension Service.
Animal Biomedical Science – This option offers students a more scientific approach to animal science, preparing them for veterinary medicine, graduate research in animal science, teaching, food technology and the biotechnology industry. Students receive an animal science degree while meeting academic requirements for application to veterinary schools.
Animal Agribusiness – This option is designed for students desiring a background in the business and economic principles as they apply to the livestock industry. It leads to broad training in animal husbandry, production, business and management. Employment opportunities include careers in agribusiness, sales and marketing of livestock and products for the livestock industry, and a variety of public and private institutions which serve the business of animal agriculture.
Livestock Media – This option offers students an opportunity to acquire skills in journalism, advertising and public relations in addition to the fundamentals of animal science. Employment opportunities include working for a variety of media outlets such as print and virtual media, TV, radio, magazines, breed associations, or commodity organizations, as well as positions involved in public relations in the livestock industry.
Meat Science – This option provides the opportunity to emphasize knowledge about the science concerning muscle biology and evaluation and processing of red meat. This option prepares students for a broad variety of career opportunities in the meat industry, including management, sales, meat inspection and meat marketing.
High School Preparation
High school preparation should include course work in biology, chemistry, English and algebra.
Career Opportunities
Animal science students qualify for many varied occupations that involve animal and agriculture business, livestock products and land management. Graduates find employment with colleges and universities, private industry and foreign assignments, as well as federal and state land management agencies. Specific employment opportunities are available in the areas of Extension Service; financial lending; the promotion, management and sale of livestock and meat; feed sales; and farm, ranch and natural resource management. The need for research in animal science has encouraged many students (15 percent) to enter graduate school.
Extra-Curricular Activities
Animal science students belong to a variety of clubs including Saddle and Sirloin, Dairy Club, Rodeo Club, Horseman's Association, Collegiate Cattlewomen, Range Club, and Collegiate FFA. The Saddle and Sirloin club is the largest club on campus and sponsors events such as the Little International Livestock Show, the Hall of Fame Banquet, and Kiddie Days.
Financial Aid and Scholarships
Part-time work and work-study programs in the seven livestock units, animal science laboratories and offices are available through the department. Information about scholarships is available at www.ag.ndsu.edu/academics/scholarships or by contacting the Office of the Dean, College of Agriculture, Food Systems, and Natural Resources, NDSU, Dept 2200, PO Box 6050, Fargo, ND 58108-6050, (701) 231-7656. Numerous awards and more than 30 scholarships are available to sophomore, junior and senior animal science majors. Scholarships are announced in the spring semester and awarded fall semester.
 Plan of Study
Please note this is a sample plan of study and not an official curriculum.  Actual student schedules for each semester will vary depending on start year, education goals, applicable transfer credit, and course availability. Students are encouraged to work with their academic advisor on a regular basis to review degree progress and customize an individual plan of study.
This sample plan of study applies to the Animal Production, Management, and Husbandry study option (Option 1).  For other study options, see examples on the departmental website.
Freshman
Fall
Credits
Spring
Credits
ANSC 101
1
ANSC 240
3
ANSC 114
3
BIOL 111 or 150
3
ENGL 110 (C)
4
BIOL 111L or 150L
1
VETS 135
3
ENGL 120
3
MATH 103
3
COMM 110 (C)
3
CHEM 117 or 121 (S)
3
Gen Ed Humanities & Fine Arts and Cultural Diversity (A & D)
3
CHEM 117L or 121L (S)
1
 
 
18
 
16
Sophomore
Fall
Credits
Spring
Credits
AGEC 242
3
AGEC 244
3
ANSC 230, 231, 232, or 235
2
BIOC 260
4
ECON 201 (B & G)
3
STAT 330 (R)
3
ENGL 120 (C)
3
Gen Ed Humanities & Fine Art (A)
3
MICR 202
& 202L (S)
3
Gen Ed Science & Technology (S)
3
 
14
 
16
Junior
Fall
Credits
Spring
Credits
ANSC 300
3
ANSC 324
3
ANSC 323
3
ANSC 340
3
ANSC 357
3
ANSC 380
2
ANSC 370
3
ANSC 463
& 463L
4
ANSC 379, 393, or 396
2
Gen Ed Upper Division Writing (C)
3
 
14
 
15
Senior
Fall
Credits
Spring
Credits
ANSC 482 or 488**
3
ANSC 478
3
Gen Ed Social & Behavioral Sciences (B)
3
ANSC 480, 484, 485, or 486**
3
Animal Prod, Mgt, & Husbandry Elective
3
Elective
3
Animal Prod, Mgt, & Husbandry Elective
3
Elective
4
Gen Ed Wellness (W)
2
 
 
14
 
13
Total Credits: 120
| | |
| --- | --- |
| ** | Two production courses are required. ANSC 482 and 488 are offered during fall semester; ANSC 480, 485, and 486 are offered during spring semester.  |