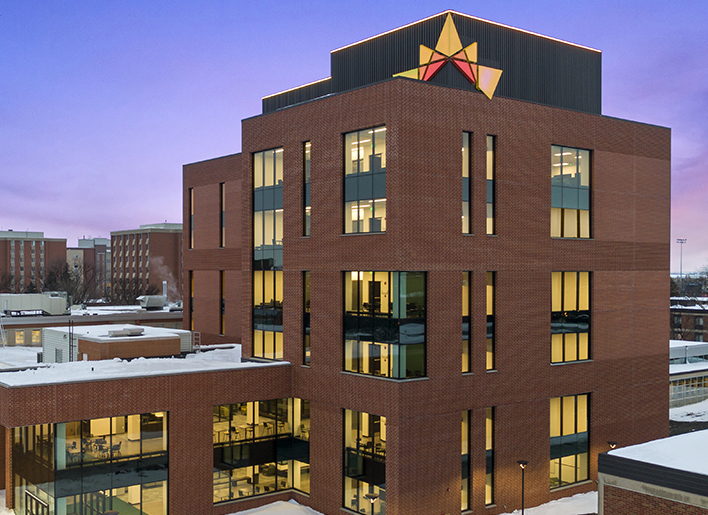 Public Health
---
Program Description
Public health promotes and protects the health of people and the communities where they live, learn, work and play. It is both an art and a science and is practiced by multidisciplinary teams of professionals whose training spans a wide array of social, biological, and clinical sciences. Public health professionals conduct research to identify the causes of disease and disability, address social determinants of health through programs and policy, monitor the spread of disease, promote healthy lifestyles through education and community engagement, and implement clinical practice or health and social policy change.
Our program offers specializations in community health sciences and epidemiology as well as focused courses in management of infectious diseases and American Indian public health. The Master of Public Health (MPH) in Epidemiology is a science, technology, engineering, or mathematics (STEM) degree. This designated degree qualifies for purposes of the 24-month STEM optional practical training (OPT) extension.
The MPH degree consists of 42 credits and can be completed in two years as a full-time graduate student. In addition, there are options for accelerated bachelor's to master's plans of study as well as dual degree options. A variety of Graduate Certificates are also available.
All applicants to the Master of Public Health program must demonstrate adequate preparation in a field related to public health and show potential to undertake advanced study, research and practical training as evidenced by previous academic accomplishment and experience.
All admission decisions are based upon full review of all information in the application in order to ensure fairness and to balance the limitations of any single element of the application, including practical experience in the field of public health.
Minimum Program Admission Requirements
Completion of the online application form and payment of the application fee.
A baccalaureate degree or equivalent from an accredited college or university (for U.S. degrees, accreditation by one of the six regional accrediting associations: MSA, NASC, NCA, NEASC-CIHE, SACS-CC or WACS-Sr.).
An undergraduate and graduate (if applicable) cumulative grade point average (GPA) of at least 3.00. Undergraduate coursework in fields related to public health should generally exceed a GPA of 3.00.
The GRE requirement is waived for the current admissions cycle, however, you are still welcome to submit an exam score if you choose.

Your success as a Graduate Student at NDSU is important and so we require a standardized test score to be submitted.* The Graduate Record Examination (GRE) General Test, Medical College Admission Test (MCAT), Graduate Management Admission Test (GMAT), Dental Admission Test (DAT), Law School Admission Test (LSAT), Pharmacy College Admission Test (PCAT), and United States Medical Licensing Examination (USMLE) are accepted. While there is no minimum score required for admission on standardized tests, performance is used an indicator of an applicant's verbal and quantitative skills.​

​*A standardized test is not required of applicants who have completed a degree in a graduate program at an accredited U.S. or Canadian institution of higher learning that required a standardized test score for admission. This test is also waived if applicants can show a minimum of five years of work experience, preferably in a community health-related field post baccalaureate degree along with a GPA of 3.2 or higher from most recent degree earned. Please email a current CV/resume and unofficial transcript to Stefanie.meyer@ndsu.edu, if you'd like to be considered for a waiver.
All graduate applicants must demonstrate academic-level proficiency with the English language before they will be considered for admission. This requirement must be met by all applicants, regardless of citizenship, residency, or nation of birth. No applicants will be considered for admission until the English Language Proficiency Requirement has been met. The English Proficiency Requirement will not be waived for any reason. This requirement may be satisfied in any of the following ways:

A bachelor's degree or higher from a recognized institution in the United States, England, Scotland, Ireland, Wales, Jamaica, Australia, New Zealand, or English Speaking Canada;
An overall minimum band score of 6.5 on the Academic Module IELTS;
A satisfactory score on the Test of English as a Foreign Language (TOEFL).The expected minimum score is 233 for the computer-based test, 90 for the Internet-based test, and 577 for the paper-based test.
Successful completion of English Language Service (ELS) Language Center's Intensive Level 112.

Applicants are required to submit the following supporting documentation
Written Statement of Purpose and Goals – applicants must submit a one-page, written narrative describing their education, relevant work experience and current professional career goals. Applicants are expected to comment on plans they have to use their education and training in public health and any personal qualities, characteristics and abilities they believe will enable them to be successful in achieving their professional career goals.
Resume or Curriculum Vitae (CV)
Official post-secondary academic transcripts from all institutions attended (transcripts must be sent directly from the institutions to NDSU)
Admissions Tests – scores must be sent by the Educational Testing Service (ETS) directly to NDSU. The institution code for the GRE and TOEFL the institution code for North Dakota State University is 6474 and Centralized Application Service for Public Health Programs (SOPHAS) Code 4770.
Three (3) letters of recommendation from individuals who the applicant feels are most qualified to evaluate their academic achievement; clinical, public health or other professional experiences; or leadership potential in public health.
The Admissions Committee may invite selected applicants for an interview on the basis of the Committee's review of all submitted application materials.
Early review begins November 15th, rolling through March 1 or until the class cohort is full.
Course List
Code
Title
Credits

Required Coursework

PH 704
Public Health Management and Policy
3
PH 731
Biostatistics
3
PH 741
Social and Behavioral Sciences in Public Health
3
PH 712
Public Health Research Methods
3
PH 745
Community Health Leadership
3
PH 706
Essentials of Epidemiology
3
PH 720
Environmental Health
2
PH 794
Practicum
3
PH 789
Integrative Learning Experience (Integrative Learning Experience)
1

Specialization Courses (select from below)

18
Total Credits
42
Epidemiology Option
Course List
Code
Title
Credits
PH 750
Epidemiologic Methods I
2
PH 752
Epidemiologic Methods II
2
PH 753
Public Health Surveillance
2
PH 754
Health Survey Research
2

Select One Group from below for 10 credits:

10

Group One: Management of Infectious Diseases

Principles of Infectious Disease Management I
Principles of Infectious Disease Management II

Group Two: American Indian Public Health

American Indian Health Equity
Research and Evaluation in Tribal Communities

Group Three: Electives (10 credits)

Total Credits
18
Community Health Sciences OPTION
Course List
Code
Title
Credits
PH 700
Preventing and Managing Chronic Illness
3
PH 725
Promoting Health through Policy, System and Environment
3
PH 711
Integrating Primary Care and Public Health
3
PH 722
Applied Community Health
3

Select One Group from below for 6 credits:

6

Group One: Electives (6 credits)

Group Two: American Indian Public Health

American Indian Health Equity
Research and Evaluation in Tribal Communities
Total Credits
18
Students cannot receive credit for past work experience.
For more information about MPH options, please visit the website.
Course List
Code
Title
Credits

American Indian Public Health

PH 704
Public Health Management and Policy
3
PH 772
American Indian Health Equity
3
PH 774
Research and Evaluation in Tribal Communities
3
Total Credits
9
Course List
Code
Title
Credits

General Public Health

PH 704
Public Health Management and Policy
3
PH 741
Social and Behavioral Sciences in Public Health
3
PH 706
Essentials of Epidemiology
3
PH 745
Community Health Leadership
3
Total Credits
12
Course List
Code
Title
Credits

Infection Prevention

PH 704
Public Health Management and Policy
3
PH 735
Principles of Infectious Disease Management I
3
PH 736
Principles of Infectious Disease Management II
3
PH 706
Essentials of Epidemiology
3
Total Credits
12