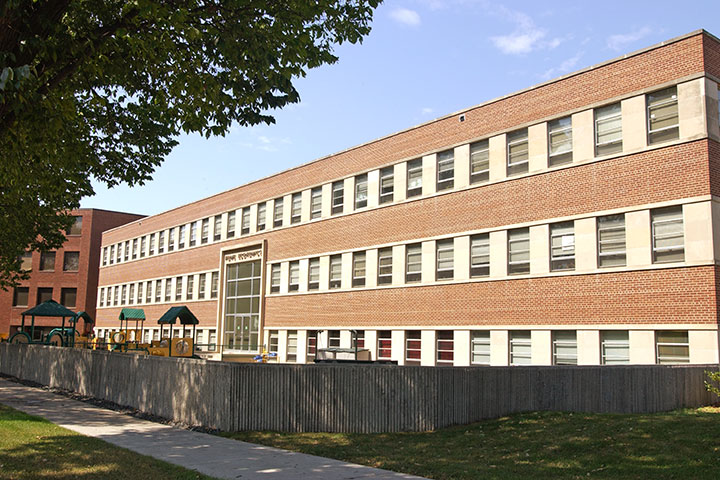 Social Work & Human Development and Family Science
The dual-degree program in human development and family science and social work offers students an integrated knowledge of children, adolescents, adults and families across the life span that will prepare them for careers in the helping professions. Students will gain a broad range of knowledge and skills that will equip them to address the needs and aspirations of people living in a changing world and be eligible for North Dakota licensure as social workers.
The Program
Students are concurrently enrolled in the family science or adult development and aging option of human development and family science (HDFS) at North Dakota State University and the social work major through Minot State University (MiSU). The culmination of these requirements leads to a Bachelor of Science from NDSU as well as a Bachelor of Social Work from MiSU.
Under a cooperative agreement, students remain on the NDSU campus to complete all course work for the dual degree. The courses specific to the social work major are offered on the NDSU campus by MiSU faculty or offered through interactive video.
Together the HDFS degree and the social work degree complement and strengthen the knowledge and skills that students will possess upon completion of this dual degree program. The curriculum combines course work in human development and family science with course work in social work. The curriculum includes a strong liberal arts base, studies in human development, family science, social work practice, social welfare, human behavior and research, and additional course work in economics, psychology, sociology and political science.
Selective Admission
Admission to the dual degree program consists of two separate university applications:
Application for admission to NDSU for the human development and family science/social work dual degree prior to beginning the program,
After admission and enrollment at NDSU and after meeting with an advisor, application for admission to Minot State University, and
Upon completion of specific requirements, application for admission to MiSU social work program.
Field Education
Students are required to complete 465 hours of direct practice with either a public or private human service agency.  This supervised field practice enables students to gain valuable hands-on experience working with clients.
The social work program does not give academic credit for life experience or work experience, nor does the program allow such experience to be substituted for field education.
Financial Aid and Scholarships
The Office of Financial Aid and Scholarships at NDSU makes available grants, loans, scholarships and work-study employment. Scholarships also are available through the College of Human Sciences and Education. For more information visit:
https://www.ndsu.edu/onestop/finaid/scholarships/
The Facilities
Facilities for the dual degree program are housed in Evelyn Morrow Lebedeff Hall and the Family Life Center.
Extra-Curricular Opportunities
Students may enhance their involvement by participating in groups such as the HDFS Club and/or the Student Social Work Organization.
Community Setting
The Fargo-Moorhead metropolitan area offers a setting conducive to study. Students have the opportunity to work in a number of community institutions serving children and families.
Accrediting Agency
The social work program is accredited by:
The Council on Social Work Education
1701 Duke Street, Suite 200
Alexandria, VA 22314-3457
Sample Program Guide
Please note this is a sample program guide and not an official curriculum.  Actual student schedules for each semester will vary depending on start year, education goals, applicable transfer credit, and course availability. Once admitted, students are encouraged to work with their assigned academic advisor on a regular basis to review degree progress.
Freshman
Fall
Credits
Spring
Credits
ENGL 110
3
COMM 110
3
HDFS 242
3
ENGL 120
3
PSYC 111
3
POLS 115 or 215
3
MATH 104
3
SOC 110
3
Science & Technology Gen Ed
3
HDFS 230
3
 
15
 
15
Sophomore
Fall
Credits
Spring
Credits
BIOL 126, 111, 150, or 220
3
PHIL 215, 101, or 210
3
BIOL 100L, 150L, or 220L
1
ECON 105, 201, or 202
3
HDFS 250
3
HDFS option course (Family or Aging)**
3
PSYC 212
3
CSCI 114 or TL 116
3
SWK 250: Interpersonal Skills
3
SWK 330: Human Behavior & Soc Env
3
SWK 256: Development of Social Welfare
3
SWK 335: Methods I - Individuals
3
 
16
 
18
Junior
Fall
Credits
Spring
Credits
HDFS 275
3
STAT 330
3
PSYC 270
3
HDFS option course (Family or Aging)**
3
HDFS 300-400 level elective
3
HDFS Any Level Elective
3
Humanities/Fine Arts Gen Ed
3
HDFS 390 Career Development
1
SWK 331: Family Dynamics
3
SWK 426: Methods II - Groups
3
SWK 430 or HMS 279
3
SWK 402, 428, or HMS 279
3
 
18
 
16
Senior
Fall
Credits
Spring
Credits
HDFS Option Course (Family or Aging)**
3
HDFS 496***
1
HDFS 353
3
SWK 490 Field Education
12
ENGL 320, 325, 358, or 459
3
SWK 491 Senior Seminar
3
Additional Cultural Diverse Gen Ed
3
 
SWK 427: Methods III - Organizations
3
 
 
15
 
16
Total Credits: 129
| | |
| --- | --- |
| * |  In accordance with North Dakota University System Policy 402.1.2 and Procedure 402.1.2, ACT or SAT Mathematics sub-test scores, as well as COMPASS Mathematics scores and the NDSU Math Placement Test are used to determine placement of students into entry-level Mathematics courses. |
| ** | Adult Development & Aging option courses are HDFS 360, 480, 482; Family Science option courses are HDFS 341, 357, 462  |
| *** | Students should NOT enroll themselves in HDFS 496 via Campus Connection. The NDSU Registration and Records office automatically enrolls students in the course during the student's teaching semester. |