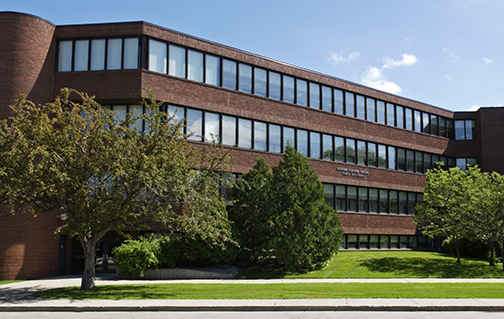 Agricultural Education
---
Program Description
Agricultural Education offers graduate study leading to the M.Ed. and M.S. degrees. Advanced work may involve specialized training in vocational education, extension education, international extension, and agricultural education.
The Master's degree program in Agricultural Education is most ideally suited for current school-based agricultural educators. However, the degree program is modular enough to meet the needs of students seeking advancement and expertise in multiple disciplines. Core coursework will prepare students to evaluate educational programs which they currently or intend to lead with a blended focus on adolescent and adult educational development. Further, coursework extends principles of bachelorette teacher preparation in agriculture. Foundational coursework in research and evaluation methods are taught in a practical and applied manner. 
Degree programs are planned cooperatively to meet the needs of individual students. Candidates are encouraged to include supporting work relevant to subject matter areas of interest. Some courses focus on problems related to various phases of Agricultural Education, including secondary, post-secondary, adult, and extension programs. Others emphasize issues common to all service areas in agricultural and extension education. Candidates should work closely with an adviser.
The NDSU programs in education are accredited by the Council for the Accreditation of Educator Preparation (CAEP) and are approved by the ND Education Standards and Practices Board. Changes in national and state legislation, standards, or rules can affect academic program requirements.
Options with Great Plains Ag*Idea
Agricultural Education
May have a focus on the secondary classroom, post-secondary environments, Extension, leadership, or agricultural communications
In addition to the Graduate School's required application materials, the program requires submission of a statement of career goals consistent with the five propositions of the National Board of Professional Teaching Standards (NBPTS), as well as reasons for applying to the program.
Admission is considered only after all required application materials have been received and reviewed. Where appropriate, all international student requirements must be met. If a program has a cohort group with enrollment limitations, an entrance interview will be required.
Admission decisions are based upon the predicted success of the applicant as a student and professional in the chosen field and are made only after considering all available data. A student must meet all requirements for full admission.
NOTE: The School of Education reserves the right to obtain additional information about the student's professional competence from qualified professionals.
Master's programs within the School of Education require a minimum of 30 semester credits (minimums vary by academic program). The Master of Science (M.S.) degree requires a disquisition. The Master of Education (M.Ed.) degree is a non-disquisition, practitioner-oriented degree. Programs vary on requiring a written comprehensive exam or a portfolio/oral.
NOTE: Earning an academic/professional degree does not necessarily lead to state credential or licensure. People seeking licensure must provide evidence of the required number of years of teaching or counseling, and, in the case of school administration, administrative experience. Potential and current students should consult with the appropriate academic program coordinator for advice about licensure, certification, or credentialing after communicating with the appropriate state official.
Course List
Code
Title
Credits

Agricultural Education - MEd

MEd Degree Plan A

Core Courses

12
Reflective Practice and Research in Education
Students and Their Learning
Curriculum Design and Delivery
Managing/ and Monitoring Learning

Major/Concentration

12
EDUC 702
Statistics In Educational Research
3

Choose from the following:

Program Development In Vocational Education
Vocational Philosophy and Policy
Experiential and Learner-Centered Instruction
Program Development and Evaluation
Professional Development in Agricultural Education
Issues In Education
Field Experience

Electives (as approved by adviser)

H&CE 794
Practicum/Internship
3

Total Credits (MEd Degree Plan A Minimum)

30

Agricultural Education - Teacher Licensure Option (TLO)

MEd. Degree Plan B. For those seeking initial teacher licensure. Candidates will have earned a Bachelor's degree in an agriculture or closely related area. Candidates must meet all requirements of related TLO program: www.ndsu.edu/ted/graduate/teacher_licensure_option/
H&CE 232
Philosophy and Policy (CTE Licensure Requirement, Not MEd degree eligible)
3
EDUC 651P
Instructional Planning, Methods and Assessment
3
EDUC 661
Introduction to Special Education
3
EDUC 686
Classroom Management for Diverse Learners
3
EDUC 689
Teaching Students of Diverse Backgrounds
3
EDUC 724
Advanced Educational Psychology
3
H&CE 644
(Forthcoming Proposal - H&CE 444 currently)
3
H&CE 680
Science, Technology, Engineering & Mathematics Teaching Methods in Agricultural Education (Forthcoming Proposal - H&CE 480 currently)
3
H&CE 681P
Methods of Teaching Agriculture
3
H&CE 683P
Student Teaching Seminar
1
H&CE 687P
Student Teaching
9
H&CE 688P
Applied Student Teaching
3

Total Credits (MEd TLO Option B)

37

DSU/NDSU Dual Degree Collaborative Agricultural Education - Teacher Licensure Option

MEd Degree Plan C. Ag Ed TLO Degree in Collaboration with Dickinson State University

Refer to DSU/NDSU Degree Plan for BS Credit requirements. Students must be enrolled at Dickinson State University at the time of application to the Collaborative Ag Ed TLO program.

H&CE 646
Extension Education Optional
2
H&CE 644
(Forthcoming Proposal - H&CE 444 currently)
3
H&CE 680
Science, Technology, Engineering & Mathematics Teaching Methods in Agricultural Education (Forthcoming Proposal - H&CE 480 currently)
3
H&CE 681P
Methods of Teaching Agriculture
3
EDUC 651P
Instructional Planning, Methods and Assessment
3
EDUC 661
Introduction to Special Education
3
EDUC 686
Classroom Management for Diverse Learners
3
EDUC 689
Teaching Students of Diverse Backgrounds
3
H&CE 683P
Student Teaching Seminar
1
H&CE 687P
Student Teaching
9
H&CE 688P
Applied Student Teaching
3

Total Credits (MEd Option C)

34-36